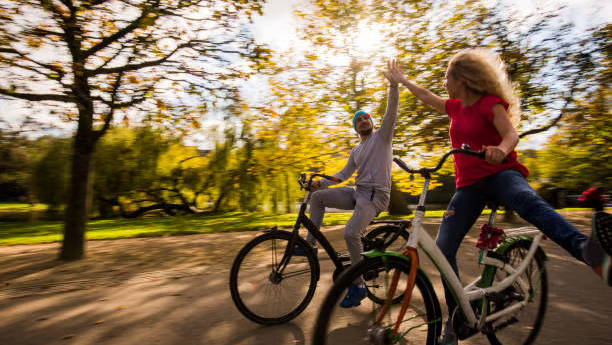 Top 10 Fantastic Movies Or Documentaries About Bikes
As aptly said by John F. Kennedy, "Nothing compares to the simple pleasure of riding a bike", many of you who ride can relate to it. Riding a bike is a healthy and fun-filled exercise for all ages. Not only does it save you from physical issues, but it can also amazingly improve your mental health.
How exciting it feels to ride a bike early in the morning, in lush-green parts, gliding through the winds. Nothing can beat that. You can easily incorporate riding into your daily routine to enjoy the essence of this sport and take advantage of its benefits.
There are plenty of movies to take inspiration from when it comes to the sport of cycling. When you look closely, you see several teams capturing the essence of the sport and turning it into something that can be conveyed. So we decided to bring you a guide to the top 10 fantastic movies or documentaries about bikes that you just can't miss watching. The list covers all, from full feature-length films to short stories and documentaries, from extraordinary bike-packing challenges to adrenaline-filled mountain biking compilations. Go through the list and select your inspiration to ride a bicycle.
Get $50 off your first order
Sign up for special offers and updates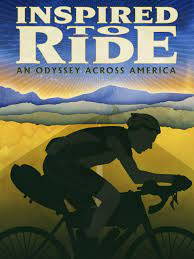 Inspired To Ride is a 2015 bike-centered film that follows the events of the inaugural Trans Am Bike Race in 2014. This one-and-a-half-hour-long film captures the story of the forty-five cyclists from around the world, on a mission to cover 4,233 miles in one big race, riding through ten states in a transcontinental adventure. The film covers their experience closely as they prepare and experience riding around three hundred miles every day with minimal sleep and no support.
It highlights the struggles of well-known riders like the late Mike Hall, Jason Lane, and Juliana Buhring, as they struggle to cross the Rockies, the Great Plains, and the Appalachians solely relying on their fitness, carefully chosen gear, and mental courage to achieve their goal. You experience their journey along with the stunning beauty of the TransAmerica Trail's various landscapes, intriguing locals, and hidden stories of this path. One must watch it to take inspiration if pursuing a career in bicycle racing.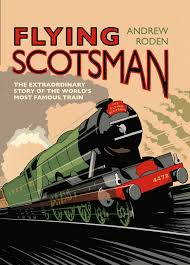 The Flying Scotsman is a remarkable movie released in 2007. It is based on the real-life story of Scottish cyclist, Graeme Obree, who was a former track world champion and hour record holder. The movie covers the struggles of Graeme Obree as he strives to beat an old rival and attempts to get the world record, despite his mental illness. He is portrayed as an
unemployed amateur who is known for his different riding positions and for his bike with a revolutionary design that he built out of scrap metal and parts of a washing machine. He won the world one-hour record on this bike in 1993 only to have his title stripped away from him.
With the help of his wife, Anne, and friend, Malky's, unwavering support, he fights his depression and refuses to give up on his goal despite all the obstacles in his quest. Jonny Lee Miller, the director, aptly portrays the role of Graeme Obree and highlights his emotions for the audience, making it one worth watching experience.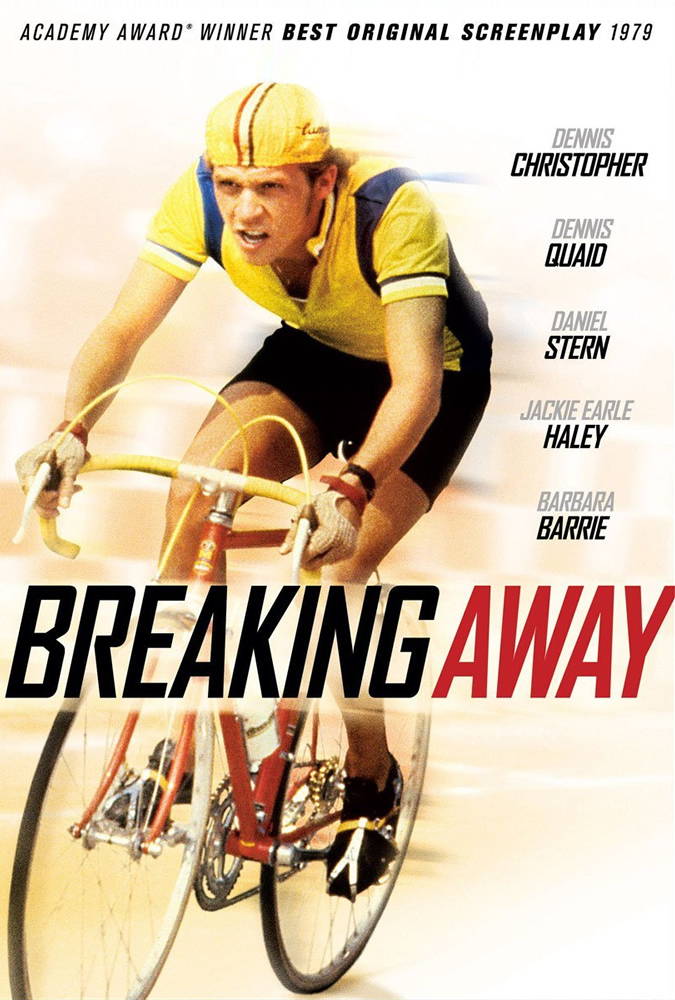 Breaking Away is a feature-length film released in 1979. It is like an old gem. The movie revolves around Dave, a 19-year-old working-class American high school graduate, and his desire to become a professional road racer. He is obsessed with Italian racing bikes and forms a little cycling team together with three of his friends. Realizing the fact that most of the world-class cyclists at that time were Italian, he decides to adopt European culture and regimes in an attempt to make his name in road cycling. However, his decision disappoints his family.
The cast of the film, including Dennis Quaid and Dennis Christopher, did phenomenal work on screen to put forward a screenplay that won an Oscar in 1979. Breaking Away was also nominated for best picture at the Oscars that year. Overall, the film won the 1979 Academy Award for Best Original Screenplay and four other nominations. This bike movie is a must-watch for cycling fans with its classic comedy, teenage romance, and big dreams.
#7 A Slice of British Pie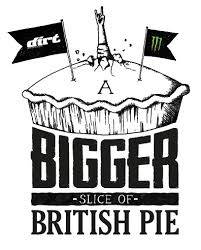 Featuring some of the best British riders namely Brendan Fairclough, Olly Wilkins, and Josh Bryceland, A Slice of British Pie is one of the dreamiest bicycle films.
This 25-minute-long adventure film celebrates good riding times with some of the greatest mountain bikers in the world. It covers the road trip of these bikers as they ride from the British Isles to Scotland's Fort William, to deepest Wales, and the Surrey Hills. The beautiful landscapes and bike scenes will leave you awestruck. The variety of scenes of rowdy and loose riding on sloppy winter trails actually portrays the common British conditions on racecourses. If you find this adrenaline-packed adventure interesting, there are sequels 'A Bigger Slice of British Pie' and 'The Biggest Slice of British Pie' for you.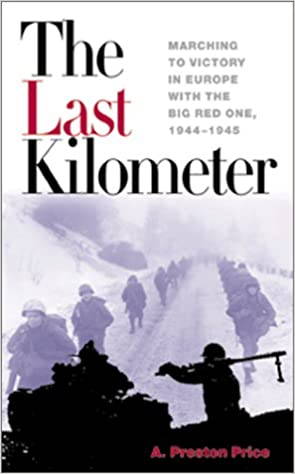 The Last Kilometre is an Italian cycling documentary released in 2012. This film is completely dedicated to the passion and sport of cycling. It covers the story and an entire cycling season of Davide Rebellin and Ignazio Moser. Davide Rebellin is a 41-year-old still fighting in the peloton after several victories and scandals, while Ignazio Moser is a young promising 20 years old boy who is the son of cycling champion Francesco Moser. Also, Gianni Mura, the famous Italian journalist and Tour de France correspondent since 1967, plays her role to help us discover what cycling was and how it has evolved today. She unveils the reality of cycling today after so many doping scandals, passion, and richness have been added to it.
The film is a portrait of professional road cycling at a crossroads. It begins with the appearance of Cadel Evans and then expands its idea to examine the many changes that have occurred to cycling in recent times including its ruining due to doping. Finally, you get to see a bit of madness and joy in the film by Didi Senft or El Diablo, who is a metaphorical symbol of all cycling fans depicting their passion and enthusiasm.
#5 Onboard the Transcontinental Race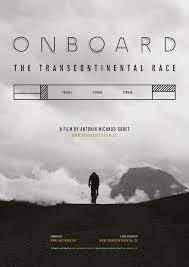 Onboard the Transcontinental Race is a documentary film produced by Antonin Michaud-Soret. The film explores the unique experiences of the largest ultra-distance bike packing race across Europe. It rapidly became one of the best-known and most inspiring races for ultra-endurance riders across the world. With routes typically around 2,500 miles across Europe, it's a challenge worth taking.
To ride The Transcontinental Race is to explore who you become at the side of a road as you ride the Alps or the Balkans while on minimal sleep, lucidity, discomfort, and no hygiene. It's extremely tough rolling over rough tracks sixteen or eighteen hours a day, discovering what exists beyond exhaustion and fatigue. It took filming over three years of races for Antonin Michaud-Soret to bring forward the story of both the riders and the crew as they cross the continent. This fifty-five-minute feature film is serious as well as comedic, while also highlighting the struggles of exhausted racers and photographers on their way. It's a much-watch for all the determined riders out there.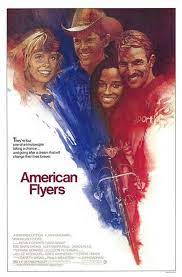 American Flyers, released in 1985, is also one of the best bike racing movies of all time. The film covers the story of two brothers, Marcus and David, who attempt to deal with family adversities by competing in a three-day cross-country bike race. However, one of them proves to be an unfortunate one and is affected by a cerebral tumor. The film stars Kevin Costner as sports physician Marcus Sommers. He persuades his younger brother David to train with him for the bike race across the Rocky Mountains. Their terms start getting better and they bond over their shared enthusiasm for cycling. Together they decide to go for the challenging mountain race.
The plot then takes a twist as Marcus is suspected to have a hereditary brain condition that could cause him to become paralyzed at any time. His health soon begins to decline and David has to compete in the race without his brother by his side. Tragic, yet the film features some of the best times from the 80s. The film has some great bike racing footage. Also, there is fantastic aerial cinematography of the stunning red rock landscape and a surprising cameo by Eddie Merckx is the cherry on the top. There is a lot to enjoy by racers in this classic film.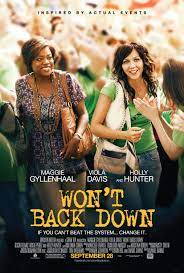 Won't back down is a 2014 movie based on the life story of iconic cyclist, Steve Peat. It covers his life, from his humble beginnings in his hometown of Sheffield, England, to the part he established himself as one of the world's most renowned cyclists. The filmmakers aim to explore the history of downhill mountain bike racing in the films and show the legacy of one of its greatest icons. Steve Peat has been competing at the top level in downhill mountain bike racing for the past 23 years.

Won't Back Down takes its audience on an intriguing tour about the history of the sport of downhill mountain bike racing, and offers a different view into the life and legacy of Steve Peat through 20 years of archived photos, footage, and intimate interviews with Steve, his family, close friends, and competitors. It is a must-watch movie for downhill mountain biking racers.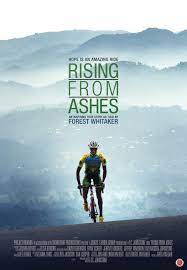 Rising From Ashes is a documentary film released in 2012. The story of the film revolves around the American cycling legend, Jock Boyer, lending his cycling expertise to the Rwandan national cycling team to help them compete in the 2012 Olympic Games in London. The film portrays their impossible journey against the odds. Both Jock Boyer and the team shows strong determination and find a new purpose as they rise from the ashes of their past.
The film beautifully follows the experience of Jock and his Rwandan riders as they learn along with him what it means to be a professional cyclist. It shows how they learn to train, compete, and live like top-level athletes. As their strength and confidence grow, the Rwandan team gives out a vision to their fellow citizens of something greater than their present and past. They give them hope for a future. It is a must-watch movie for anyone who is looking for inspiration to rise from ashes.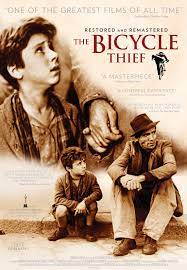 Bicycle Thieves is a drama film based on the story of a working-class man in post-war Italy. It is one of the greatest cycling films of all time, thanks to its powerful and emotional depiction of the art. It is a simple story of Antonio Ricci, who is an unemployed man and a father living in Rome. After many days of struggling, he finally secures a job of hanging posters around the city. The only requirement of his job is to have a bicycle. His wife sells the family's bed linens to recover his bicycle so he can take the job.
However, tragedy strikes when Antonio's bicycle is stolen. He desperately searches for it in the streets along with his young son. The story is intriguing and this incredible Oscar-winning film left its impact on worldwide cinema. It still has a place in countless lists of best movies to date. You can't miss watching and transforming into 1940s Rome.
Riding a bike is one great way to exercise along with enjoying the fun of this sport. You can choose to pursue a career in bike racing or go on a road trip with your group. Biking is a versatile hobby that one can enjoy in different ways. Watch any of the above-listed movies to get inspired, or you can also share your favorite bike movie with us. We would love to hear your suggestions in the comments section below. And again, aspire to ride.