Top Locations To Ride Your E-Bike This Fall
Riding an e-bike is an exercise in pure joy, especially if you live somewhere where the weather changes with the seasons. For those in warmer climates, fall offers the perfect opportunity to take your ebike out for one last spin before winter arrives and makes it too cold to ride outdoors.
Get $50 off your first order
Sign up for special offers and updates
Yes, with the sun setting earlier and the leaves changing colors, it's the perfect time to take your ebike for a ride.
Whether you're just starting your biking journey or looking to try something new, check out these top 10 locations in the United States to ride your e-bike this fall.
You might even meet some other like-minded bikers while you're at it!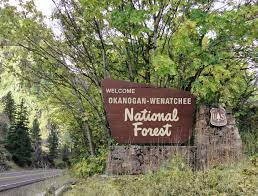 1. Okanogan-Wenatchee National Forest, Washington
The Okanogan-Wenatchee National Forest is the perfect place for a scenic ride this fall. It stretches over 1 million acres, and the forest has many biking trails sure to impress even the most avid rider.
Hikers and mountain bikers enjoy exploring the area's many trails, which range from easy to difficult and take you through some of America's last remaining old-growth forests.
There's no shortage of options for great bike rides in the forest; on any given day, you could go on a quick loop or get lost along one of the interconnected paths winding their way through beautiful valleys, meadows, and lakes.
Head out on an early morning hike before riding off into the sunset with a picnic basket full of treats. Enjoy an afternoon filled with outdoor pursuits followed by a picnic dinner at the lakeside amphitheater.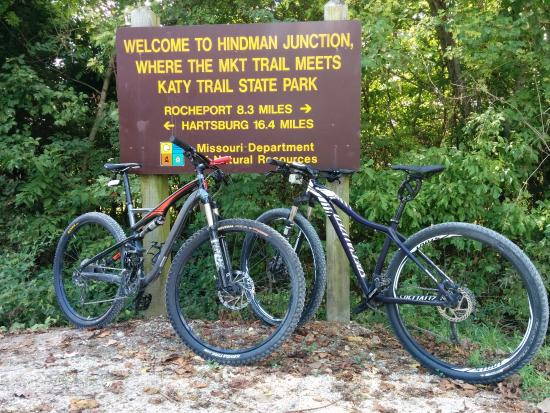 2. Katy Trail State Park in Missouri
The Katy Trail State park in Missouri is located near the middle of the state and is 240 miles long. It's a favorite for bikers and hikers alike, with some of the country's most scenic views of any trail.
The Katy Trail State Park, with breathtaking scenery stretching from Clinton East to Machens, Missouri, also follows most of the Missouri River, providing bikers with a wonderful view throughout their trip.
You'll also find historic sites and quaint towns to explore along the way. Riders can take over 100 years of history on this trail, designated National Historic Landmark.
If this seems like the vacation for you, mark your calendar for the second week of October and be prepared to see some spectacular treescapes on your ride.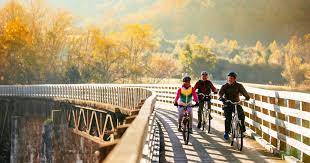 3. The Virginia Creeper Trail, Virginia
The Virginia Creeper Trail is a scenic, historic rail trail in rural southwestern Virginia near Abingdon and Damascus that follows the route of an old coal-hauling railroad line from Coalburg to the top of Whitetop Mountain and back down again.
The trail offers many opportunities for e-bikes, including camping, climbing trails, waterfalls and historical sites.
Stretching for 35 miles, much of it in Abingdon and Damascus city limits. The Virginia Creeper Trail is a beautiful trail enjoyed by hikers, bikers and horseback riders.
There are camping spots along some portions, and many lodging options are located nearby in Abingdon, such as Creeper Trail Bed & Breakfast or Damascus Manor Inn.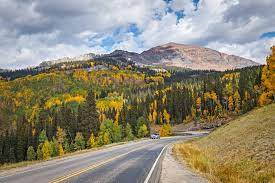 4. Kebler Mountain Pass in Colorado
Riding an ebike up Kebler Pass should be a great time if you like great views. While it's not as popular as Pike's Peak, Kebler Pass is still one of the highest paved roads in Colorado and is surrounded by beautiful mountain views.
Most bikers head up Kebler Pass after a heavy snowfall because they look for downhill skiing conditions on their e-bikes.
The route, located high in the Colorado Rocky Mountains, is usually blocked from November to May. Every winter, when the snow makes the route inaccessible, it closes for the season.
It's a beautiful mountain route that runs through aspen woods, alpine meadows, and mountain lakes within the rich Gunnison National Forest. The ride should take roughly four hours. It's a spectacular drive in the fall when the leaves turn vivid oranges and reds.

5. Trinity Trails in Fort Worth, Texas
Trinity Trails in Fort Worth, Texas, is a must-see for anyone looking for a fun time on their ebike this fall season. Situated on over 240 acres of land, Trinity Trails provides the perfect setting for all sorts of activities, including mountain biking and hiking.
With miles of trails winding around the property, there's plenty of room for riding or walking your bike without ever bumping into another person.
The Panther Island Pavilion, Woodshed Smokehouse and Texas' only waterfront stage are some of the ideal stops you'll stumble across during your ride for good beer, live music, outdoor sports, and excellent cuisine nearby attractions.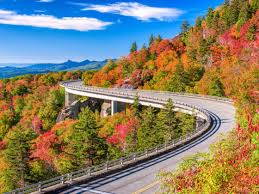 6. Blue Ridge Parkway | Swain County, North Carolina
North Carolina, noted for its extended autumn season and spectacular fall foliage, is the ideal location for seeing a kaleidoscope of red, orange, and yellow leaves along the legendary Blue Ridge Parkway.
The roadway links Shenandoah National Park to the Great Smoky Mountains National Park. It is 469 miles long. It is surrounded by sassafras, dogwood and maple trees in yellow, red, and orange, providing a lovely ride no matter how many kilometers you put in.
One of the best parts about this location is that it offers something for everyone- whether you're just getting started or an avid cyclist, there are trails and routes for all levels and skill sets.
But you can't ride an ebike on the Blue Ridge Parkway without stopping by some of its peaks, so don't forget your camera!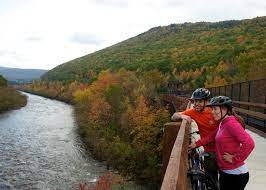 7. Lehigh Gorge Trail, Pennsylvania
The Lehigh Gorge Trail at Lehigh Gorge State Park is a must-see for cyclists. Pedal along the Lehigh River from the Francis E.
Walter Dam in the north to the charming little village of Jim Thorpe in the south (named for the Native American Olympian). Look for the park's namesake, a steep-walled canyon, and multiple waterfalls along the journey.
The Lehigh Gorge Trail is undoubtedly one of the best places to ride an ebike this season because of its stunning views and easy access.
In addition, it's a short distance from the parking lot at Rockport State Park, making it a great place for families or people who want something close by that isn't too strenuous on their legs.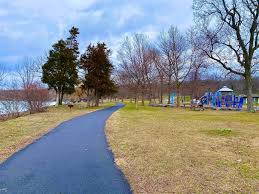 8. Long Point State Park, Aurora, New York
Long Point State Park, which extends into Lake Chautauqua like a peninsula, is a terrific site to enjoy Aurora, New York's vibrant lakefront foliage.
The park and marina are commonly used for day visits with thickly forested sections of beech, maple, spruce, poplar, and oak trees.
The park is especially popular with bikers, who ride beneath a canopy of the season's brightest paths reflecting off Cayuga Lake.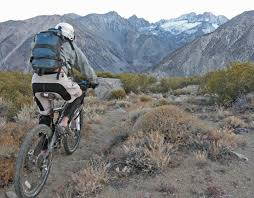 9. Eastern Sierra, Mammoth, California
This route is intended for those more interested in the blazing fall foliage.
It takes you across June Lake, Silver Lake, Gull Lake and Grant Lake, all located in Mammoth's eastern section, known as the "Switzerland of California."
It's a 24-mile loop that's all road and no path, and you should go in mid-to-late September for the best autumn views. If you want to replenish your calories, go to O'Hana's 395 or June Lake Brewery.

10. Erie Canalway Trail | Albany, New York
The Erie Canalway Trail stretches 365 miles between Albany, Buffalo and New York and is the big brother of all bike routes. It runs parallel to the historic Erie Canal, which opened far back in 1825.
The 32 mile stretch between Lockport and Buffalo is a favorite autumn foliage destination. It gives riders plenty of time to see historic sites and make hotel reservations ahead of time. You should also have waterproof gear on hand.
There are various reasons to like this location: colder temps, colorful foliage, and pumpkin spice in almost everything.
Things You Need To Do for the Best E-Bike Experience This Autumn

You can experience a host of new adventures with an ebike, and that's not just because you're going faster or farther than before; it's also because of how much more fun an electric bike is to ride.
Highlighted are six things you need to do for your best biking experience!
●Choose proper clothing
You should dress appropriately for the weather and have plenty of layers and footwear suitable for changing temperatures. If you're riding at night, wear bright colors or reflective gear so other drivers on the road can see you. If you're riding in low visibility conditions like fog, heavy rain or snow, wear high-visibility gear and use lights on your bike.
●Maintain your tires
One way to keep your ebike running smoothly during fall is by checking tire pressure every few days. Tires lose air over time, affecting their inflation level, which means they may go flat sooner than they should when they come in contact with something sharp like glass or rocks. Keep spare tubes and tools handy at all times so that if there's ever a problem, you'll be ready to handle it immediately and get back on the trail again quickly.
●Keep your chain in good working order
Fall is the perfect time to change your bike oil, check lube points and replace worn cables. If your gears aren't shifting properly, give them a little love. Remove any caked-on dirt from derailleurs with rubbing alcohol, and clean the teeth inside your rear derailleur pulley. Also, ensure you wipe off any excess lubricant after applying it too.
●Maintain your peripheral vision
Fall might mean fewer hours of daylight each day, but that doesn't mean you can't enjoy yourself once the sun goes down. Take extra care to maintain your peripheral vision while riding in low visibility by looking straight ahead and keeping your head up. Always have a backup light on hand for nighttime rides, even if your bike has installed front and rear lights—you never know when you'll need one!
●Check the weather
As fall approaches, the days will become shorter, and the nights will become longer. As a result, you must pay attention to and be informed of the present weather conditions in your locality. Keep an eye on the news, particularly the weather forecast. Knowing whether the weather will vary significantly throughout the day is useful. Compared to vehicles and trucks, riding an ebike in the rain or when it becomes cold does not provide you with the luxury of shelter over your head. Because you will be riding a bike for several minutes or hours, depending on your destination, you must consider the weather.
●Get the right accessories
Wearing a helmet is crucial no matter what time of the year you choose to ride your e-bike, especially during fall. It is critical to prioritize safety, and wearing a helmet is a crucial step toward assuring safety in the event of an accident. If you're worried about how you'll appear in a helmet, be assured that there are trendy ones in a variety of colors to fit your preferences. You are free to personalize them as you see fit. Autumn necessitates more precautions than simply layering your clothing. Before embarking on rides, you may install the LCD backlight display and weatherproof illumination on your ebike.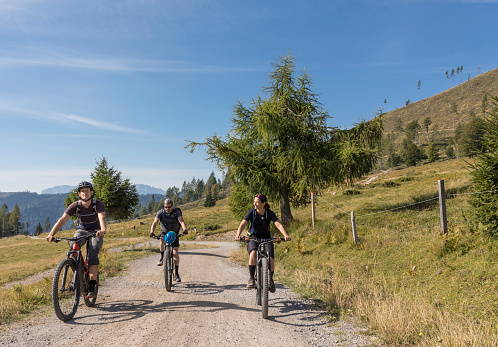 It's the year's season when leaves change colors, and the weather is cool enough for a jacket. What better way to enjoy these last few months of fall than on an ebike?
Ebikes are a great way to exercise, enjoy the outdoors and have fun with friends. If you're looking for some new places to get your motor running, look no further than our list of the top ten locations in the U.S. for e-bikes this season.
If you're still not convinced about e-bikes, check out our blog post on why e-bikes are a good investment for anyone who wants more control over their transportation costs or a new form of exercise!
We hope this list provides you with many ideas for where to ride your e-bike in the fall. If you have any suggestions or favorite locations we missed, please leave them in the comments section below!