Top 10 Best Cycling Apps for iOS and Android Users in 2022
It might have been all the pent-up energy from staying indoors for almost a year. Or maybe being stuck inside made us truly realize how wonderful it is to feel the sun on your face and wind rushing past your ears as you hurtle 20mph down a sharp incline. No matter the cause, one thing that I do know for sure is that there has been a sustained rise in bicycle sales and increased popularity of outdoor cycling.
Outdoor cycling is a great form of cardio. It works out key muscle groups in your lower body like your glutes, hips, and legs. Not only that, it's significantly less stressful on your back, knees, ankles, and hips than other lower body exercises.
Outdoor cycling is by no means a new invention. However, a lot of 21st-century tech has been added to the sport not only to maximize your efficiency but also to give you a truly enjoyable experience while you work out. So sit back and relax while we introduce you some of the best cycling apps that are sure to take your pedaling game to the next level.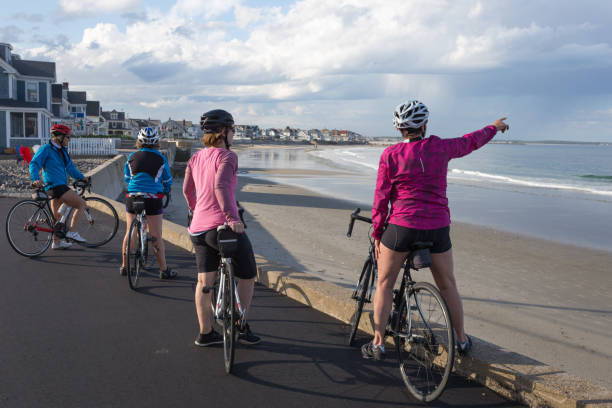 Best Analytical Training Apps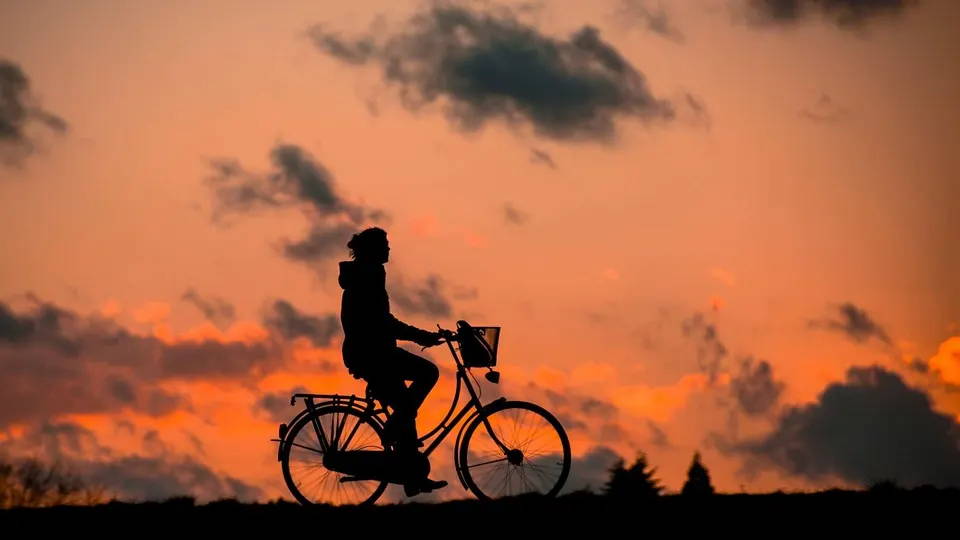 Some people take outdoor cycling as a hobby, to others it's a form of exercise and to a select few it's a religion. No matter which category you fall within, here are some of the top apps which give you comprehensive metrics on your cycling performance.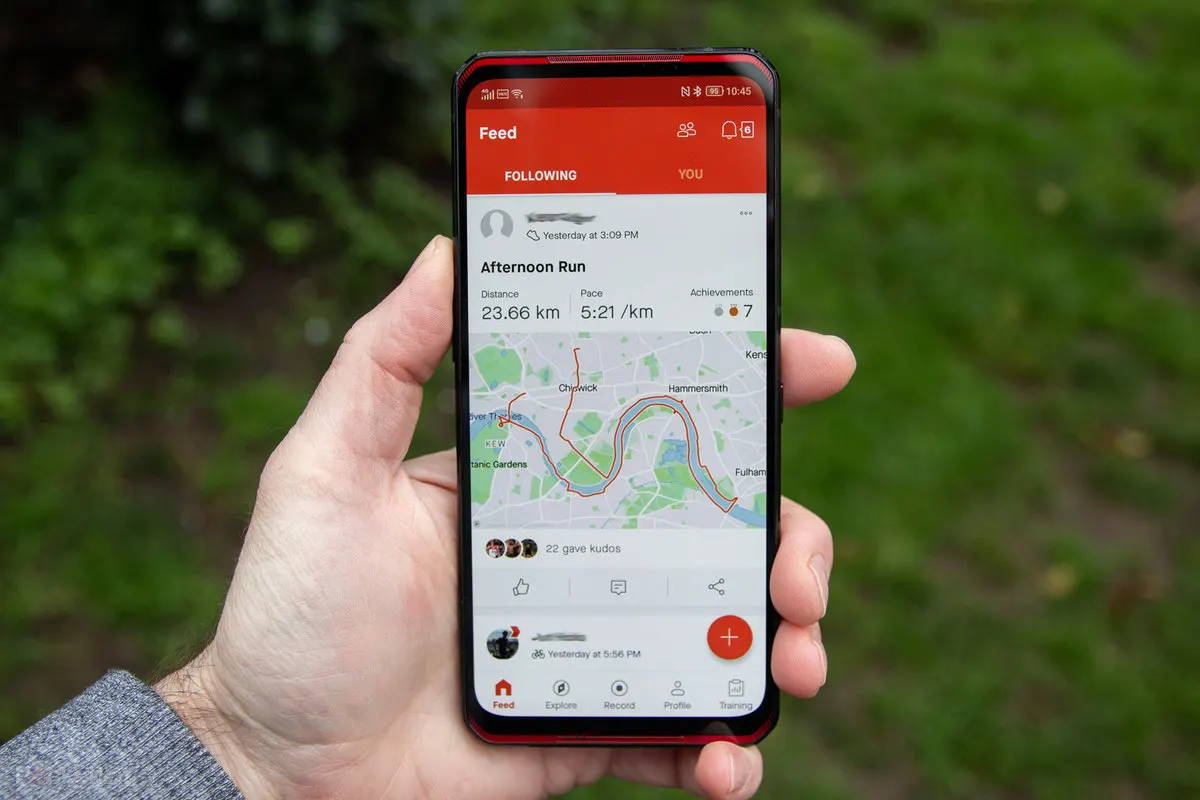 ●Price: Free / Premium: $6 per month; $59.99 per year
●Download on iOS, Android
If you've been in the cycling scene for a few years you must have heard of the Strava app. The Strava app allows you to track and analyze every aspect of your cycling activity. This includes features like distance, speed, elevation, route, time, calories, and so on.
All these are available on the free version of the app. The paid app has additional features like a personal training log, a heat map, beacons, revolutionary ride metrics, and so much more. Both versions can be used on your mobile device or connected to a GPS computer which allows you to upload your rides and metrics onto the Strava platform.
Strava also supports an online community that allows you to interact with friends on the platform, share your rides, post photos and encourage other riders. The app is great for those who are dedicated cyclists and want to accurately track their progress.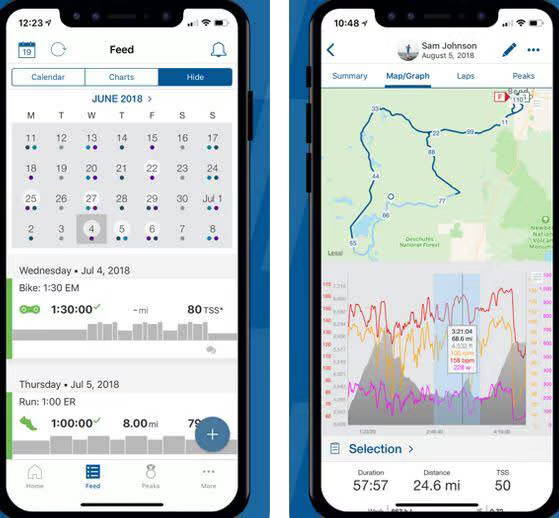 ●Price: Free / Premium: $9.92 per month
●Download on iOS, Android
If you're interested in performance-oriented, structured, or competitive cycling then the Trainingpeaks app is one you cannot do without. It is a popular tool for creating effective and structured training plans.
The app allows you to effectively schedule and track your workouts. It offers features like a Performance Management Chart, color-coded workout cards, graphs and charts, and a customizable dashboard. The app allows you to choose from workout plans crafted by legendary cycling coaches like Joe Friel and Frank Overton.
Understand that this app has little in the way of being a social platform or navigation tool. Its main focus is recording and optimizing your workouts by displaying the data in an easily understandable form.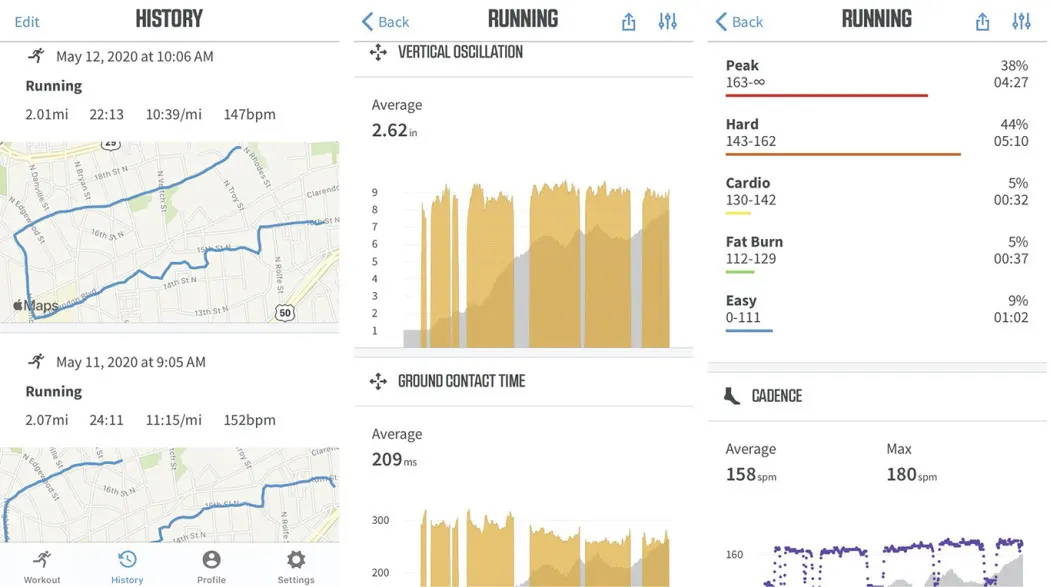 ●Price: Free
●Download on iOS, Android
The Wahoo Fitness app is much more than just another product from the Wahoo Fitness company. It allows you to track stats such as heart rate, power, and cadence. The app also allows audio alerts for triggers such as distance achieved, power zones, and heart rate zones. Did we mention that the platform and all these great features are 100% free?
However, even all these free features are not what truly sets this app apart from its competitors. One truly striking property this app has is its ability to connect with other apps like Strava, TrainingPeaks, MapMyFitness, and MyFitnessPal. This is a convenient feature since the platform lacks an online community of its own.
The Wahoo Fitness app also communicates with other fitness devices you may have like heart rate monitors, cycling sensors, and other training accessories via Bluetooth connectivity. You can also pair it with your ANT+ device if you have a Wahoo Key Plugin.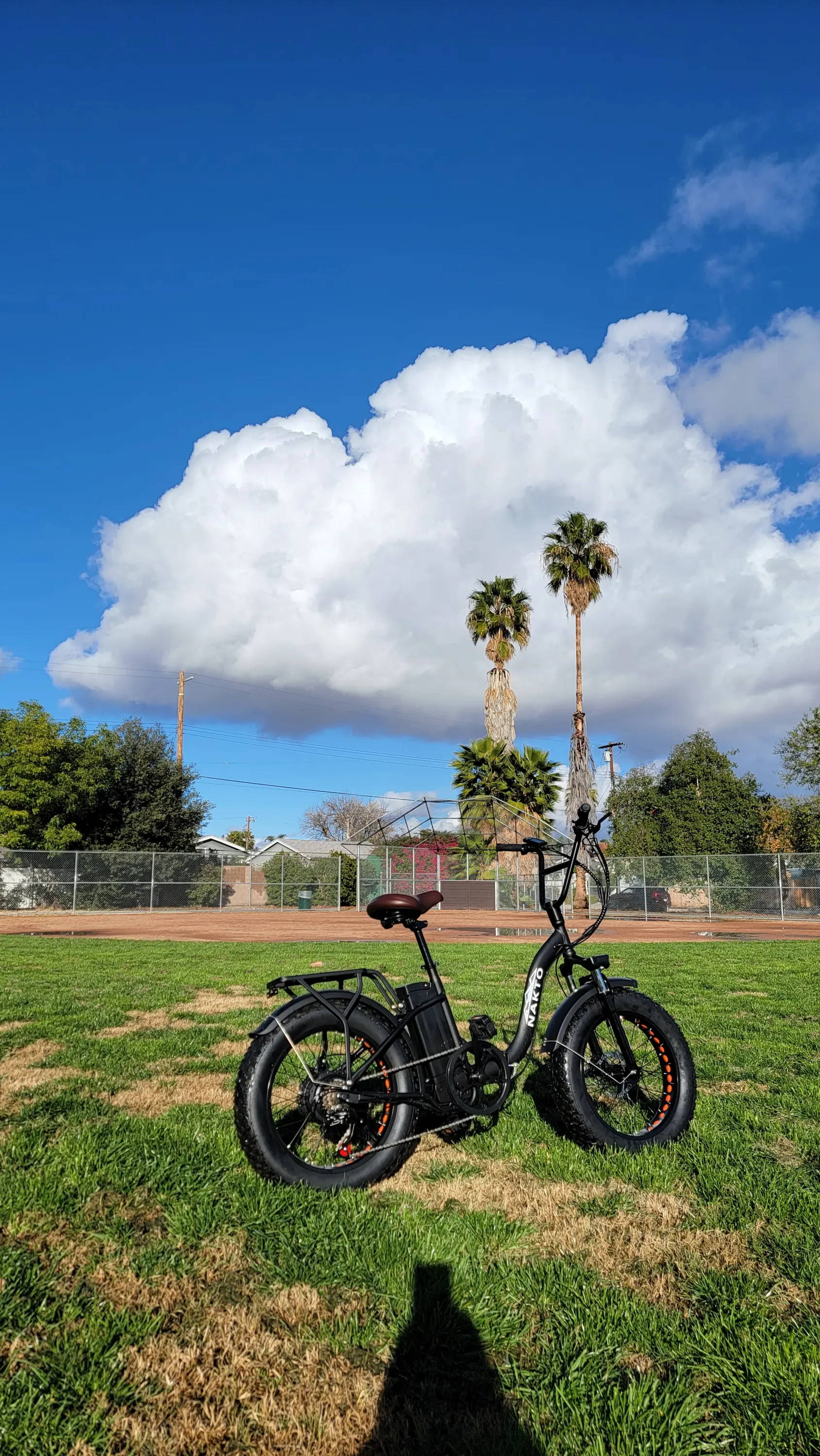 One of the most effective ways to get the best experience from your cycling sessions is by planning the journey ahead of time. This includes considering things like route, weather, traffic, and so on. Let's take a look at some top-notch applications for route navigation.
Trailforks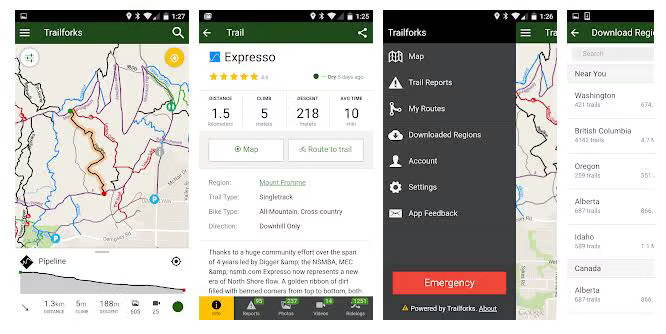 ●Price: Free / Premium: €1.66 monthly; €20 annually
●Download on iOS, Android
The Trailforks app is a useful crowd-sourced navigational tool, especially for those who like cycling on rugged terrain. It offers over 161,000 trails from all over the world, all painstakingly compiled by cycling enthusiasts around the globe. The information offered by the platform includes things like trail conditions, bike shops, points of interest, and live tracking options.
The maps can be downloaded directly onto your device and read offline, so you don't have to worry about getting lost if you lose your cell signal. You can also add to the community by mapping trails of your own and commenting on key features of the route with photos and videos.
Another great feature the Trailforks app has is the emergency info function. What this function does is generate your GPS coordinates and the nearest trail if you get lost. Hopefully, you'll never need to use it.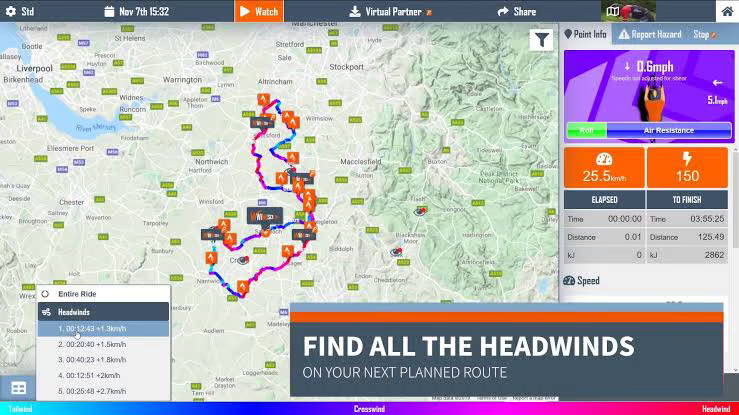 ●Price: Free / Premium: $13 (£9.99) per year
●Available as a web app
Nothing ruins a good ride like bad weather. That's where MyWindsock comes in. This application provides users with real-time local weather data provided by the US National Oceanic and Atmospheric Administration and National Centers for Environmental Prediction, as well as the UK Met Office.
Simply check the map and take a glance at the expected weather conditions for your planned route. This allows you to conveniently choose an alternative route, avoiding nasty and potentially dangerous weather conditions like rain, snow, or crosswinds. It provides you with alarms notifications, warning you of any expected bad weather forecasts.
However, that's not all this app does. By combining with the Strava app, the platform allows you to estimate how the weather conditions may positively or negatively affect your cycling performance. They take into consideration factors like tailwinds, crosswinds, and headwinds (all conveniently colored-coded of course).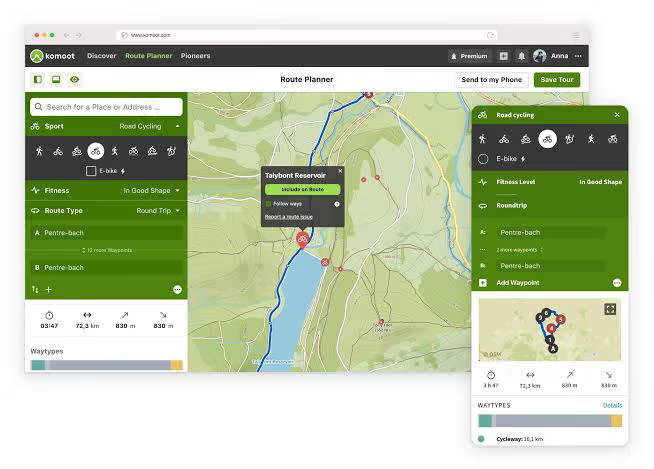 ●Price: Free / $3.99 per region or $29.99 to unlock the entire world
●Available on iOS, Android
Komoot is another useful navigational tool that is quite similar to the Trailforks app. It also offers users the opportunity to map out routes and even plan new ones. A lot of this data is provided from the over 10 million users who regularly use the service to map out and record their rides. The free package gives you access to only your region but you can pay to unlock other areas as well.
However, that's not all the platform offers. You can also choose routes based on their level of difficulty, the terrain, and your current level of fitness. This takes into account factors like your elevation gain, elevation profile, and the ruggedness of the route.
So all you have to do is select your beginning and endpoints, choose the difficulty you're comfortable with and let the app map out the best route for you. It also comes with a cool Highlights feature which points out landmarks that might be worth taking a stop at.
Best Cycling Apps for an Enhanced Experience
Just because cycling is a form of exercise doesn't mean it can't be enjoyable as well. This is especially true about outdoor cycling. These apps are geared toward making sure you get the best experience out of your ride.
First Aid by American Red Cross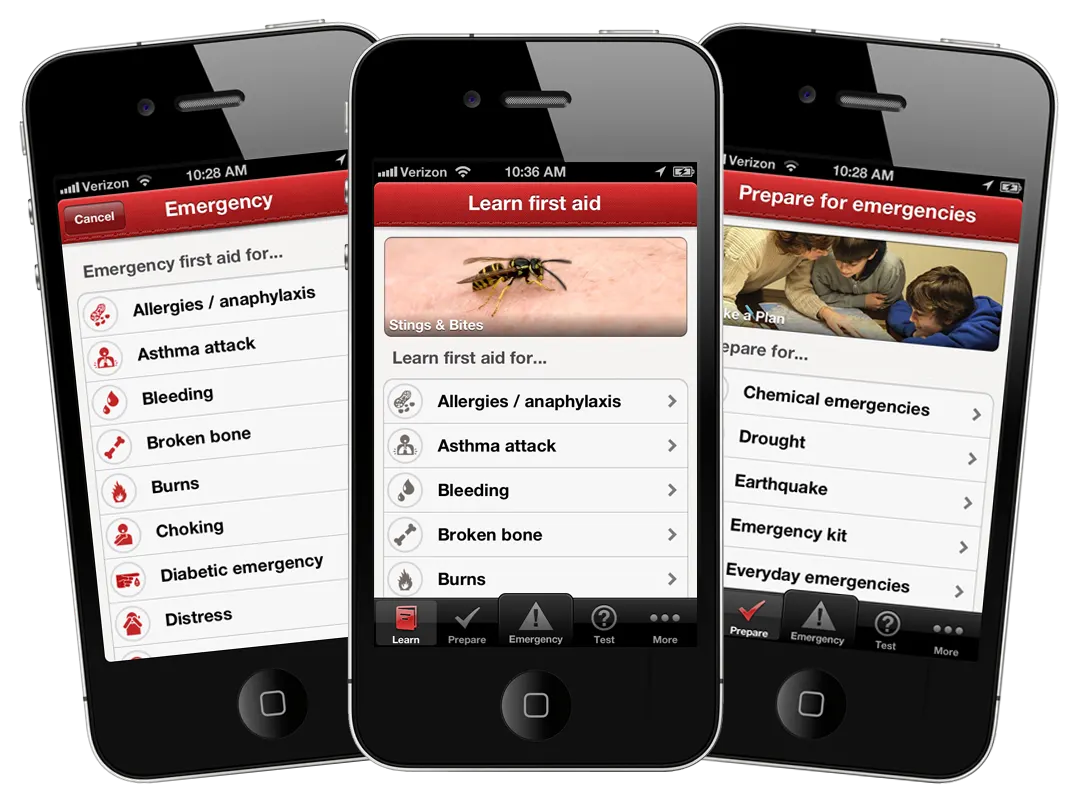 ● Price: Free
● Available on iOS, Android
Safety is always the most important thing when out on a ride. Though cycling-related injuries have fallen steadily over the past few decades, it's still important to be prepared.
The First Aid by American Red Cross app provides users with a guideline on how to perform basic emergency first aid procedures for major and minor injuries. It also helps you identify the severity of the injury and how to appropriately manage them. Remember to also contact an ambulance once you have performed emergency care for the injury.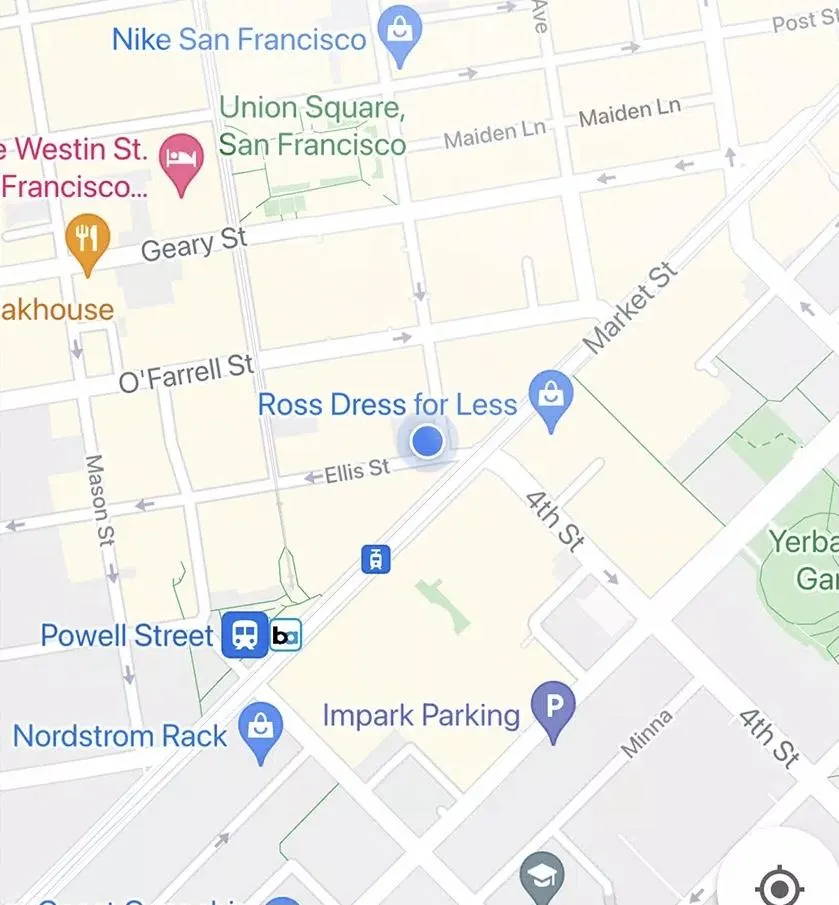 ●Price: $2.99 per month
●Available on iOS, Android
This is another useful application for emergencies. It's a real-time location sharing and accident app that notifies your pre-selected contacts when you might be in danger. It works via a Stationary Alert feature that notifies your selected contacts if you remain stationary for a prolonged period. You are given a 30-second window to cancel the notification in the event of a false alert.
Also, you can pause the alert system when you want to perform a stationary activity like changing a spare tire. The eCrumb feature also provides your speed, location, and distance. The application also has a One-Touch SOS feature if you need immediate aid. It allows you to contact your pre-selected contacts and first responders. The platform also provides your current latitude and longitude.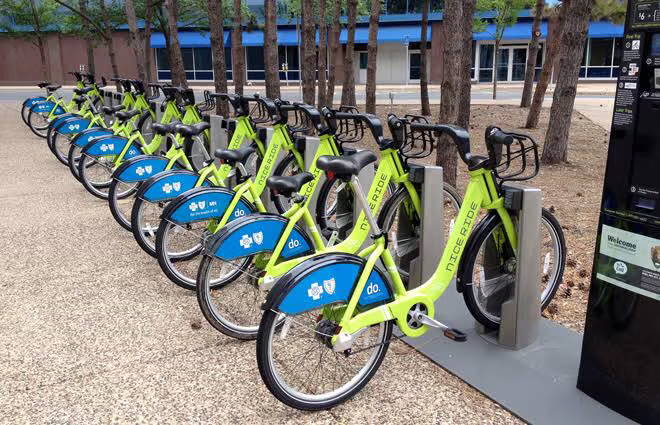 ●Price: Free
●Available on iOS, Android
Dockless bike-share systems seem to be gradually gaining traction in the U.S. This system allows users to temporarily rent a nearby cycle, use it to get to their location, and then lock it in a convenient location for the next person who comes along.
The Migo app facilitates this service by allowing you to view nearby available bicycles from different companies. Not only does it show you available bicycles, but it also helps you compare their relative prices and distances. However, the service is only available in a limited number of states.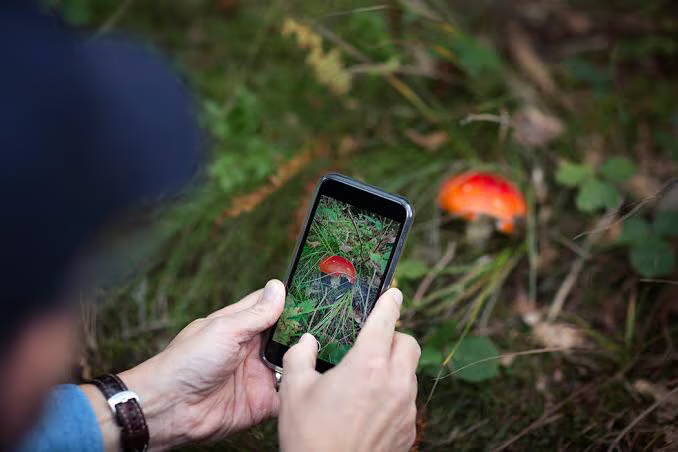 ●Price: Free
●Available on iOS, Android
iNaturalist is not actually a cycling app. It can best be described as a social media platform for people who love documenting and sharing nature. The project is a collaboration between the California Academy of Sciences and the National Geographic Society.
The app allows you to take pictures of interesting fauna and flora you encounter while out for a ride and share them with other members on the app. It also allows you to identify species you don't know by asking other users and viewing their contributions as well.
Why Outdoors Cycling is So Beneficial to Your Health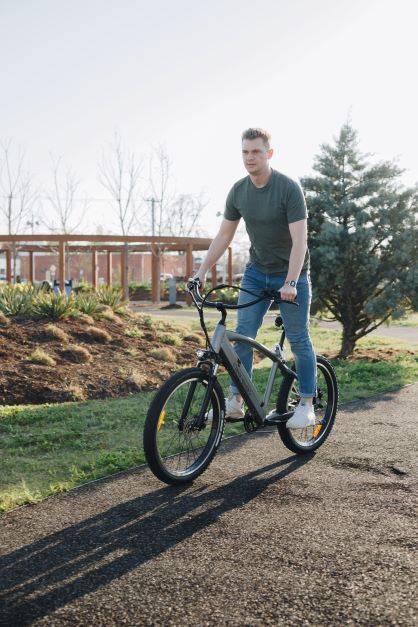 Let's look at some of the benefits outdoors cycling has on your health:
●Cycling is a low-impact exercise, which means it places less strain on your muscles and joints. This makes it great for individuals with arthritis or who are overweight.
●It involves all your major muscle groups, especially those of your lower limbs. It's also a form of both cardio and strength training, which allows you to balance your workout routine more effectively.
●Cycling has been found to reduce the incidence of type 2 diabetes, hypertension, breast cancer, obesity, and osteoarthritis.
●Learning how to ride a bike is easy, quick, and not particularly capital intensive.
●Cycling can be scaled to your current fitness level. This allows you to increase the intensity of the workout gradually as you progress.
●Outdoor cycling is fun and engaging. It's hard to get bored when the scenery around you changes constantly and there's always a chance you may see something new.
●Being outdoors is great for your mental health. Cycling has been found to help with depression, anxiety, and stress. It has a relaxing effect and stabilizes both mental and physical functions as well.
●Aside from being just an enjoyable activity that helps you move around, cycling also gets you places! Why take a cab when you can cycle to your location and get some exercise at the same time.
Outdoor cycling is a great way to get some exercise but can also be quite enjoyable. Use any of the apps listed above to get the most out of your cycling journey. You can also do some research and find other great apps. We would love to hear from you in the comments section. As always, happy trails and keep the rubber side down!