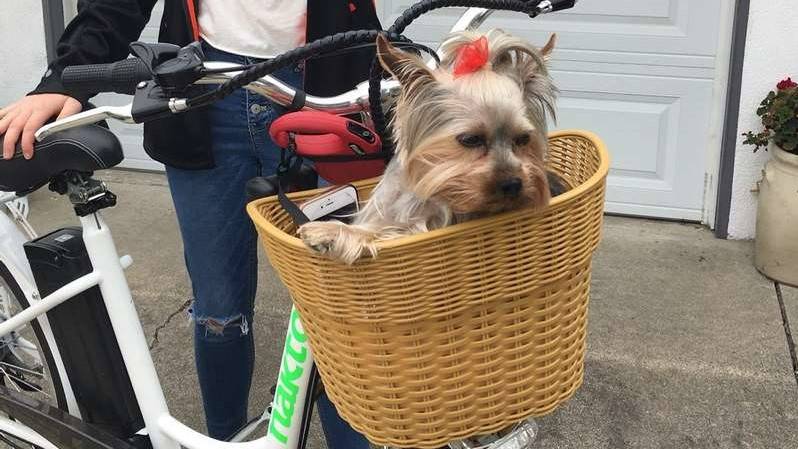 Tips For Safe Biking With Your Dog
Most of us consider our pets as part of our family, so we tend to share both sad and happy moments with them. Riding a bike with our pets even makes the activity more fun.
Moreover, exercise is a vital requirement for dogs, so what's a better way of doing so than going for a bike ride? You exercise and have fun at the same time.
Get $50 off your first order
Sign up for special offers and updates
Win-win! As bike riding is another form of exercise, it will help your dog burn fats, stay healthy and in shape and also help their mental well-being. While going bike ride with your dog make is fun, the safety of your dog is also important. In this article, we will look at some unique tips on how to ride your bike with your furry friend safely. So, Sit back and read along.
Riding Bike with Your Dog is A Real Fun
There is no doubt that riding with a dog is a lot of fun and rewarding activity. Dogs are human friends, and they are sometimes more loyal than many humans, so most people find them appealing, friendlier, and safe companions. Many pet owners love to involve their pets in all their activities.
Furthermore, riding with them is an exciting activity that doesn't only make you and the dog happy but also keeps them fit and brings tons of positive vibes. So how can you safely ride your bike? Well, below are four excellent ways you can ride a bike with your furry friend.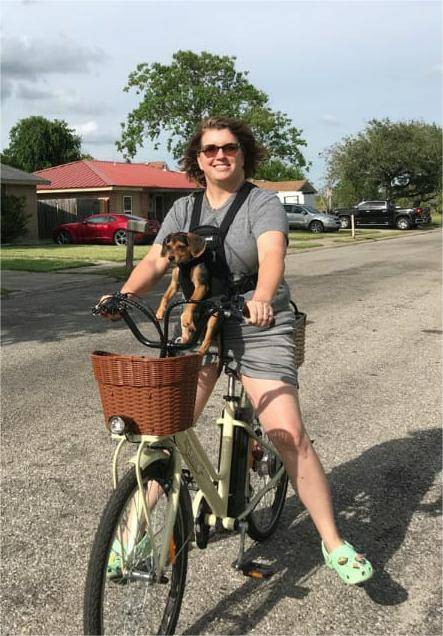 4 Different Ways for Bike Riding With Dog
The weather changes, and you are ready to hit the road with your dog. So, what are better ways of riding with your dog? Well, whether you are a regular cyclist or a beginner, a long-term dog parent, or a new canine companion, we have you covered. Here are unique and easy ways you can enjoy your outdoor adventures with your dog.
1. Dogs in Bike Baskets
If they are small, the best way to ride with them is to put them in the basket attached to your bike handler or the back frame. And if your bike doesn't have a basket, you can always get one for your dog.
However, ensure the basket you want to put them inside is specifically made for dogs; it should have all the necessary safety requirements to protect your dog and prevent it from falling or jumping out while on the road.
Also, check the bike's manufacturer's instructions on connecting the dog's harness to your bike's basket. In addition, it's important to slowly introduce your dog to the basket before going on your ride rather than just putting them in the basket without prior notice.
To introduce the dog to the basket, gently carry it and put it inside the basket, then treat it and praise it before you bring it out. Repeat the process at least five times or more and make sure at the end of the practice they are familiar with the basket.
After this, you can then start leaving them in the basket for longer durations. After they build, even if it's a small positive attachment to the basket, you can move to the next step of the practice, which is rolling your bicycle gently while they are in the basket and making two to three stops along the way to praise and treat it.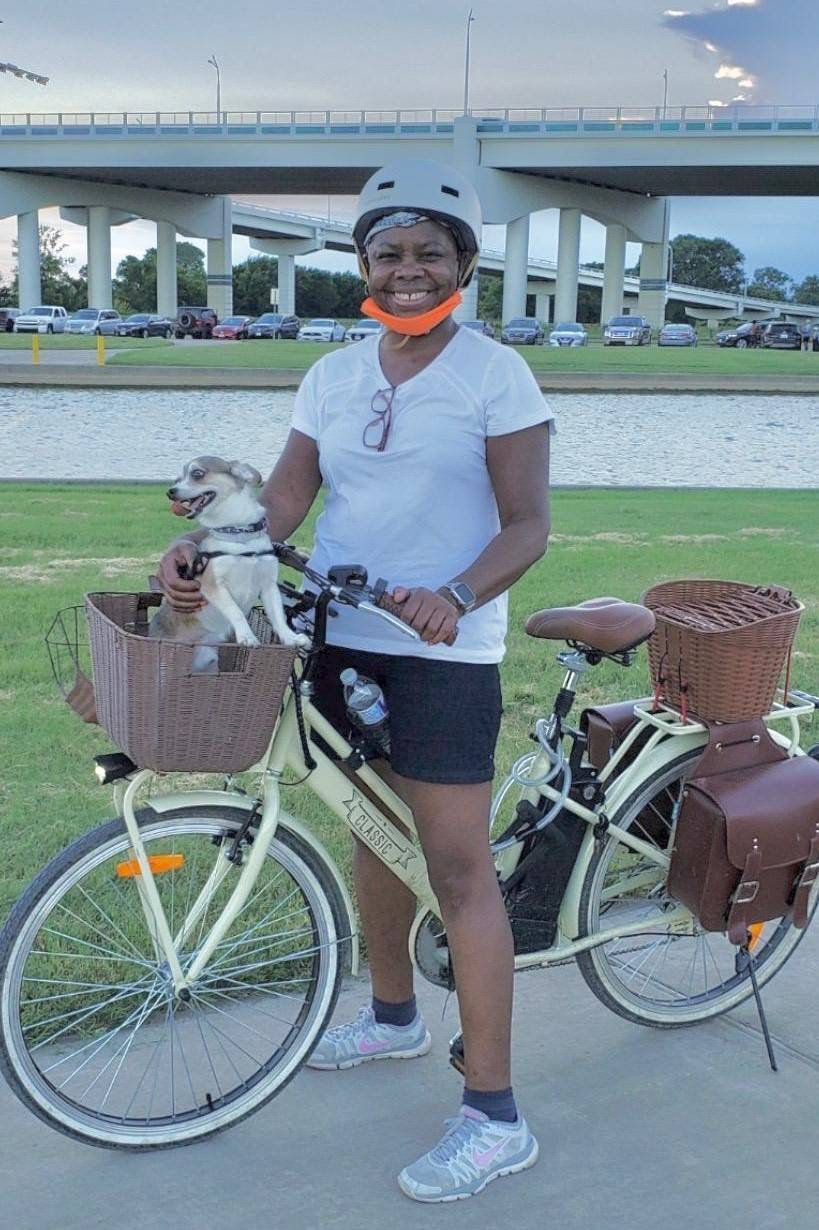 2. Dogs in Bike Trailers
If your dog is huge or medium size, one of the best ways to ride with it is to pull it in a trailer behind your back. Remember those bike trailers made for toddlers and small children? Yes, right, you can modify it so it can work for your pet, also.
Moreover, there are even bike trailers designed for dogs. And one of the benefits of riding on a bike while your dog is on a trailer is that it will help protect the dog, especially during a scorching sunny day when the road is made of concrete.
This method will also benefit you if you live on a busy street or your dog is old and can't healthily run or walk behind a moving bike.
Also, you will need to familiarize your dog with the dog trainer. To do so, just like the method used in bike baskets, encourage it to enter the bike trailer simultaneously praising and treating it.
Repeat this at least five times, put the dog in, and bring it out until the dog is accustomed to the trailer. Once it gets used to it, you can move to the next step and attach the harness or seat belt to the dog and move the trailer a few inches gently while praising and treating it.
Once the dog is comfortable in the trailer, you can move forward to further inches. After this, you can start a short bike with the dog on the trailer while stopping at intervals to praise and treat the dog.
Your dog might instantly like the trailer after putting it in for the first time; the best is you shouldn't look at this; instead, ensure the dog is firmly secured to the trailer so they won't jump out when you reach road traffic.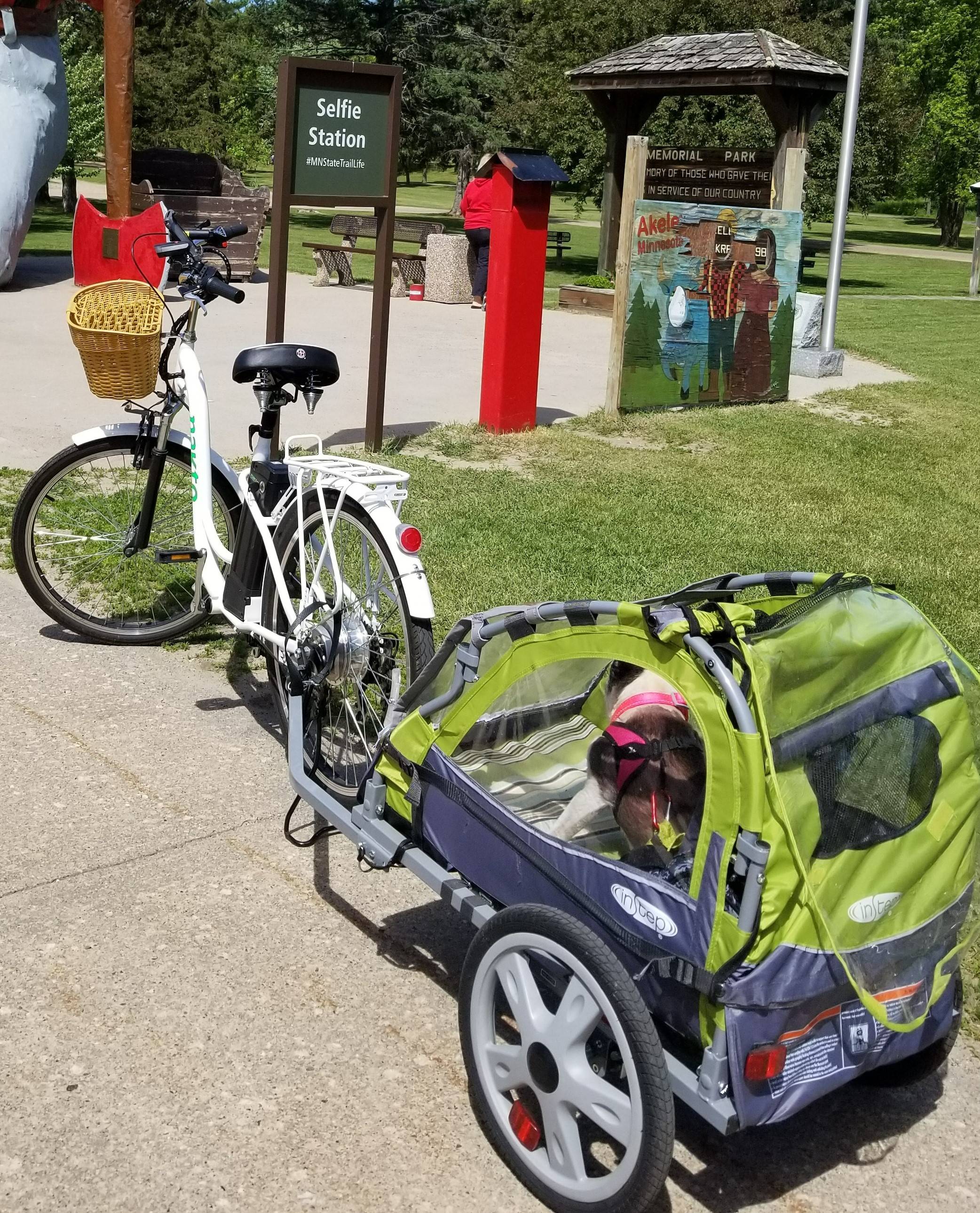 3. Dogs in Cargo Bikes

Cargo bikes are another unique way to ride with your dog, especially if you go on a long ride. A cargo bike is a three-wheeled machine with open-topped carbon box areas. You can also find e-bikes and battery-powered cargo bikes. To familiarize your dog with the cargo bike, follow the same process as the bike trailer.
4. Dogs Running Alongside The Bike
Another fantastic fun way to ride your bike with your dog is to make the dog run alongside your bicycle. However, before you go for this activity, please consult your veterinarian to check your dog and make sure it's healthily fit to run and keep up with your bike.

If your dog is small, it is best to carry it inside a trailer, cargo bike, or bike basket because most small dogs have shorter legs. So, make sure your dog is enormous and healthy before riding outdoors with it.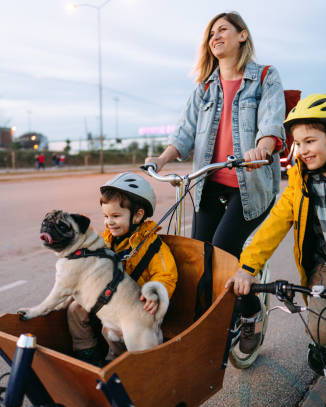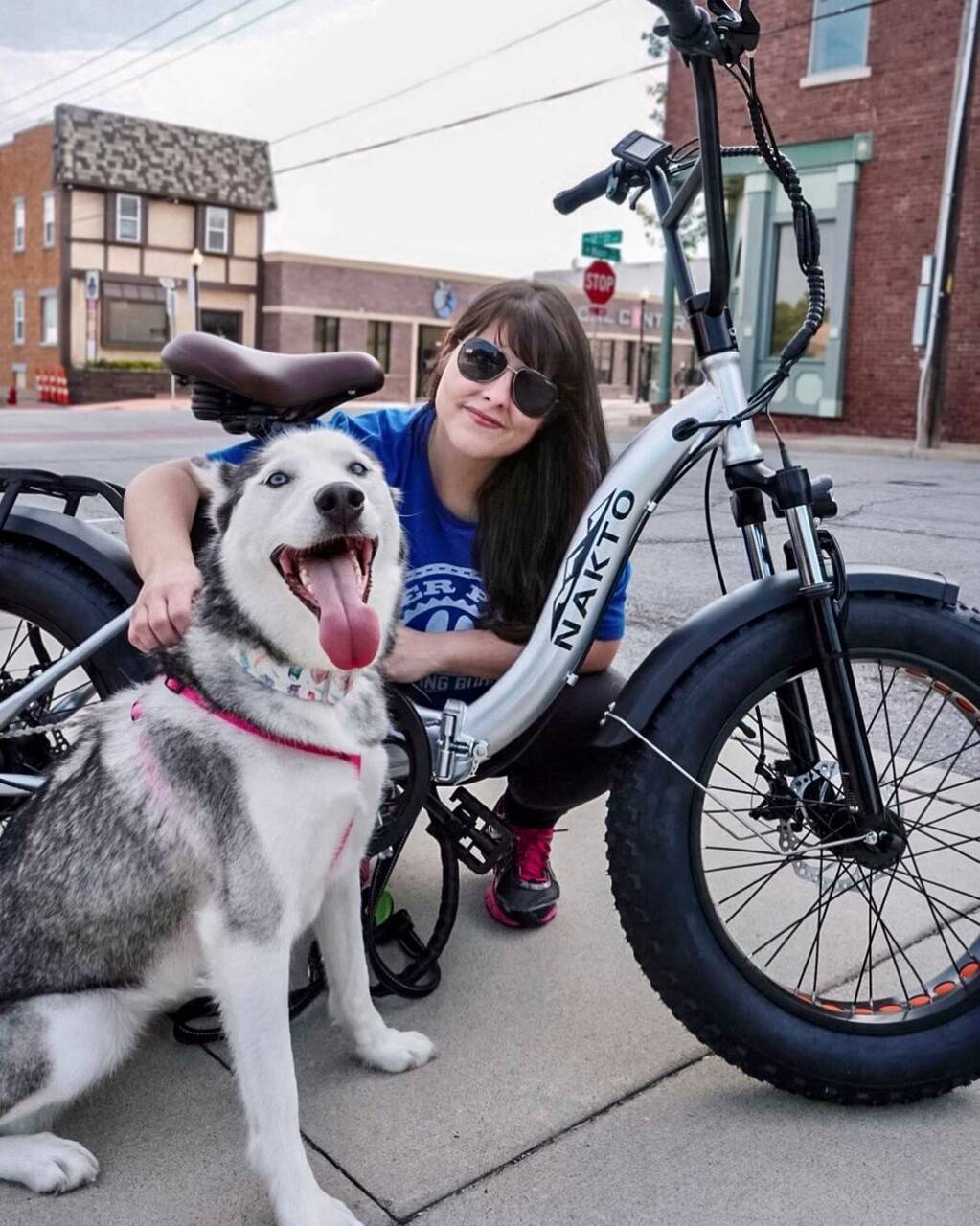 Tips For Safe Biking With Your Dog
Riding a bike with your dog might look easy, thinking of just your dog and the bike. This isn't the case because for you to ride with your dog without encountering many problems, you will need a little practice and preparation, especially when riding on concrete. So, let's look at how you can safely ride your bike with your canine friend.
Make Sure Your Dog Can Take It
If you have never taken your dog for a bike ride, ensure it can withstand the fun activity. Even if your dog looks healthy, for safety reasons, take it to a veterinarian before you start the new exercise.
The veterinarian will check and ensure the dog is not too old for the ride and doesn't have any underlying health issues that could be worsened by strenuous exercise.
For example, if your dog is overweight, your veterinarian will advise you not to take it for a ride, as that's not the first routine, to begin with. They will advise you to be taking the dog for short walking before you progress to taking them for a bike ride.
Mind The Weather
In addition to checking and ensuring your dog can withstand the riding. Check the weather condition of your area before going outdoors. If you are in warm weather, remember that it can bring challenges to even humans talk more of your four-legged friend.
In such conditions, you must take extra care. If the sun is hot and your dog doesn't have any covering, it can get overheated easily, which can lead to heat stroke, a life-threatening illness.
To ride safely during extreme weather conditions, first, choose an area where the shade is more than the sun, don't ride when the weather is scorching, take along plenty of water, go slowly so your dog can remain comfortable, and use sunscreen on the dog especially if you are going to stay outside for a long time.
Bring Enough Water
You and your dog need to stay hydrated while riding, especially if you go for a long ride. Carry along a water bottle for you and the dog; you can carry the water inside a backpack or make the dog haul the water in a carrying vest.
Equipment
For safety purposes, you will need some equipment to ride safely with your dog. This equipment includes:
● A leash: Going out with a leash is a must in some areas. And it's vital to keep the leash loose so you can release it in an emergency. Also, don't tie the leash to the bike's handlebars or wrap it around your hands because if unfortunately, the dog pulls the leash, you might end up falling.
● Dog harness: Harness has a lot of advantages when riding. It protects the cervical spine, muscles, and larynx and it will also help better hold the dog by its neck.
● You should also wear gear and a helmet when riding with your dog.
● Bike rack: Bike rack, also called a springer, is safety equipment that helps your dog have enough space from your bicycle. The bike racks are made to withstand fast and jerky movements from your dog.
Training
Although many dogs love to ride, it's also essential to train them, especially if you have never ridden with a dog before. The situation might look foreign to the dog so prepare it first.
First, train your dog with a leash; after it gets accustomed to the leash, slowly introduce it to the bike if you can afford to hire a trainer to teach you and the dog the skills so you will have a good relationship with the dog and make your riding communication strong.
Another training is to take your dog near the bike and allow it to sniff and smell. Remember to always praise and treat the dog when it's calm.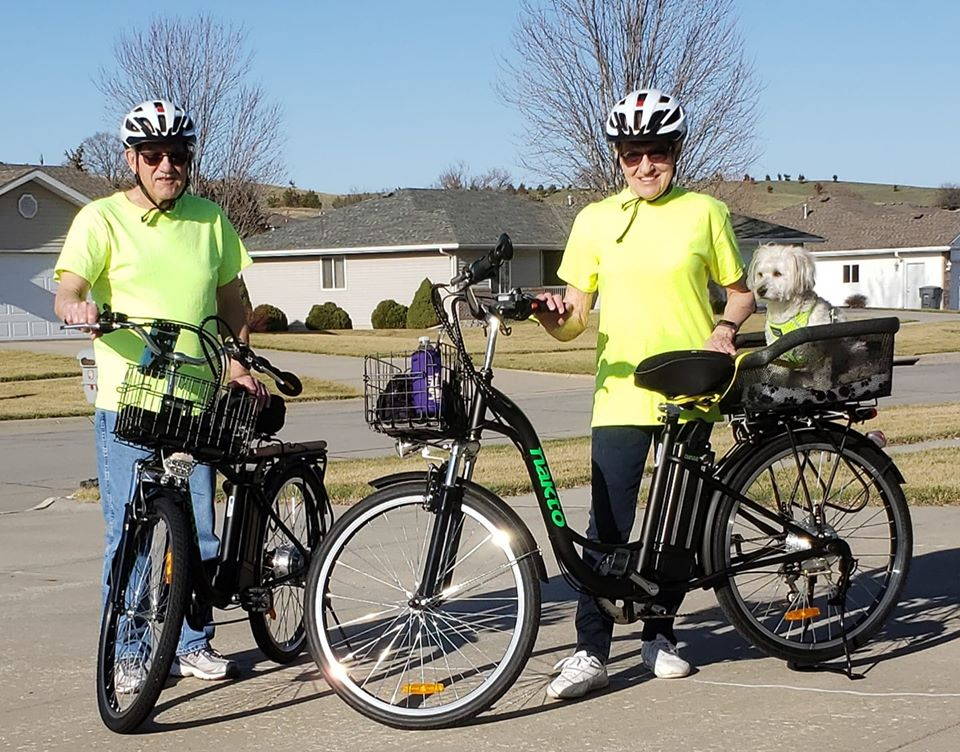 Some Popular FAQs for Bike Riding with Dogs
Is biking with my dog safe?
Yes, it's safe to ride with your dog; you can put them inside a basket, or trailer, use a bike cargo or make them run alongside your bike. However, if your dog is small or medium, they have shorter legs, so it's not advisable to make them run alongside your bike; instead, put it in a trailer, bike cargo, or basket.
How fast can you ride the bike?
Your dog's fitness determines how fast you can ride with it. Also, consider your dog's age, breed, and condition.
Is your dog bike ready?
Yes, your dog's bike is ready as long as it doesn't have a problem and your dog is in a healthy condition.
What side of the bike should the dog be on?
If your dog is small, you can put them in the front, side, or rear-facing basket. However, the safest side and best position is the right side because if you put it on the left, it will be in a vulnerable position as it's set next to traffic. Ensure the basket is well padded and your dog is firmly strapped to the basket. And if you have a big healthy dog, you can put it in a trailer or bike cargo.
How long should I take my dog on a bike ride?
If your dog is new to bike riding or small, it's better to take it for a 10-15 minutes ride session to get acclimated to the riding. And if your dog is big, you can take it on a longer ride as far as possible. Just be extra careful in hot weather to protect your dog from heat stroke.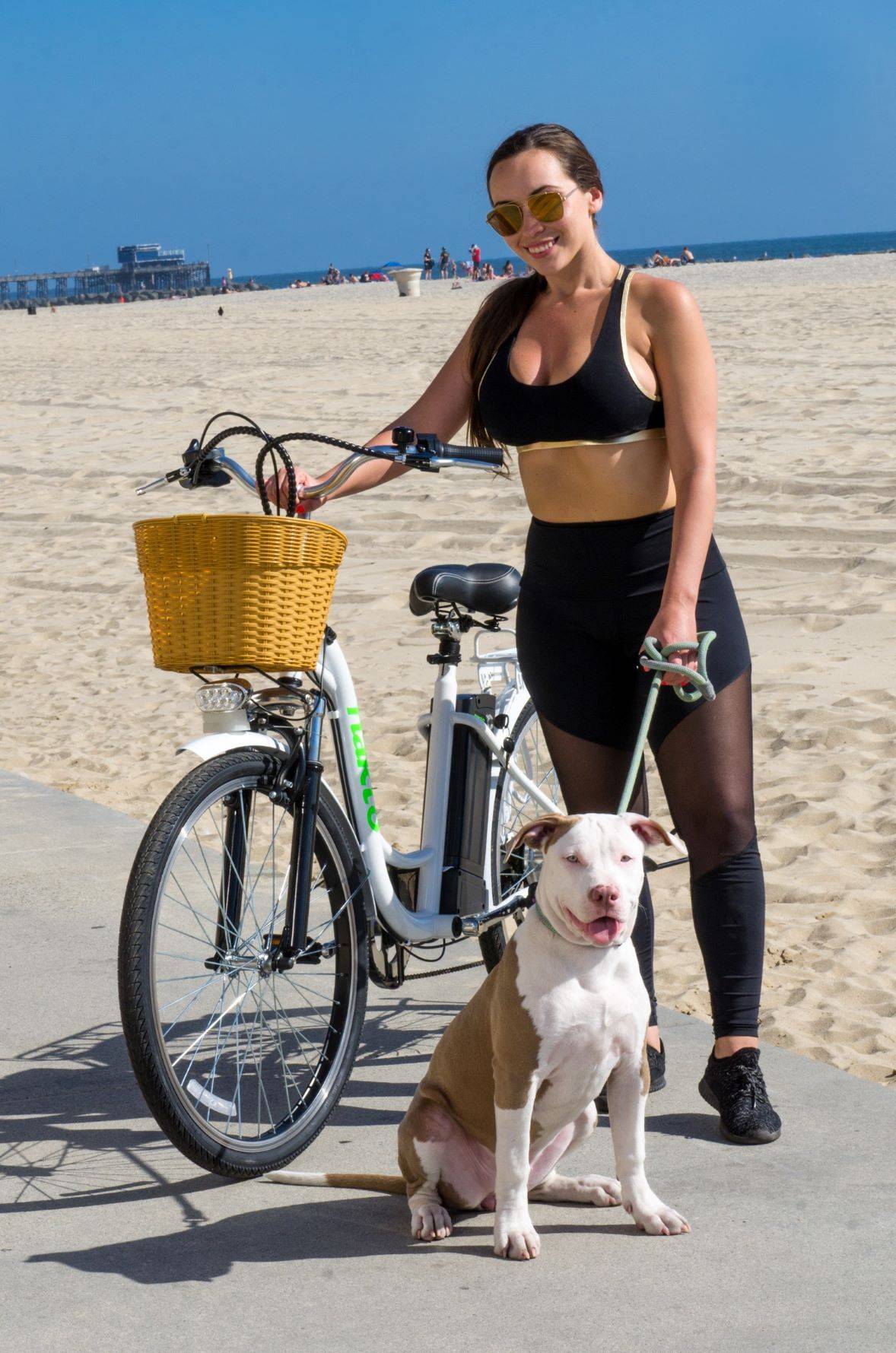 Since you want to include your furry companion in your bike riding, there are many ways to do that. You can decide to get a bike basket where you can put the dog inside and have fun or get a trailer for the dog, purchase a cargo bike, or ride your bike while the dog runs behind you.

However, the vital thing to note before cycling is safety; follow safety protocols such as checking your dog and making sure it can withstand the activity, checking the weather, bringing water with you, training the dog, and many more. Following these rules, you can safely ride with your canine friend and have fun.