NAKTO FOLDING OX REVIEW BY ELECTRIC BIKE REPORT
Today we'll take you through our review of the Nakto Folding OX – a bike that can correctly be called a cruiser, fat tire, step-thru and more.
Not only does it try to give you so much in terms of styling, but it's also trying to maintain an entry-level price to entice the e-bike curious who might not be ready to make a substantial monetary investment into e-bikes. we've seen plenty around our corner of Southern Utah.
To join our mailing list and never miss an update!
ELECTRICAL SPECS & FEATURES
Battery: Tianneng 48V, 10Ah (480Wh) Li-ion
Display: LCD display
Motor: 500W rear hub motor, 52Nm torque
Headlight: LED headlight
Taillights: N/A
Peal Assist: 5 Level PAS
Range: 22+ Miles
Throttle: thumb throttle
Brakes: Shimano mechanical disc brakes; 160mm rotors
Fenders: Plastic – Included
Fork: Trama 82B sprung fork, 60mm travel
Frame: Steel
Drivetrain: Shimano Tourney
Grips: Plastic
Saddle: Comfort padded in black, 2 damping spring
Handlebar: Hi-rise cruiser bar, aluminum alloy, 25.2″ width
Kickstand: Included
Pedals: Yonghua PA66, foldable
Tires: Kenda or CST, 20" x 4″
Nakto Folding OX Review: Bike Overview
The Folding OX is currently priced just slightly above that thousand dollar line and it's their second most expensive model. A fairly impressive price considering it's arguably the everything bagel of e-bikes, checking almost all of the different categories we separate e-bikes into as its got fat tires, it's fast, it sports a step-through frame, it folds, it has comfortable cruiser styling, fenders and headlight for commuting, a suspension fork for comfort – I think you get the point. All the different styles and things you traditionally ask for on a bike it tries to provide.
Blending those styles together does yield an easily accessible bike with comfort built-in. The stepover height is low, the tires give you a cushy ride, and the cruiser styling keeps you upright instead of in an aggressive, performance-oriented position.
Now, when something is this affordable and provides you with so many things you're looking more so at a jack of all trades instead of a master of one or many. And that's not necessarily a bad thing. It casts a wide net with some effect at being appealing to many different people.
Diving a little further into some of those features I mentioned this bike is built as a comfortable ride with a high-rise handlebar. You'll stay upright as the rear geared hub motor propels you around supported by a 480Wh battery. The stopping power of this bike is provided by mechanical disc brakes with 160mm rotors.
By and large, the Folding OX gives an okay to good feeling in most of the performance areas. That may sound underwhelming, but when you factor in the price, there is some bang-for-your-buck appeal at play here.
But to better understand those performance factors we properly tested specific areas of each bike which we did in the motor, battery and braking departments.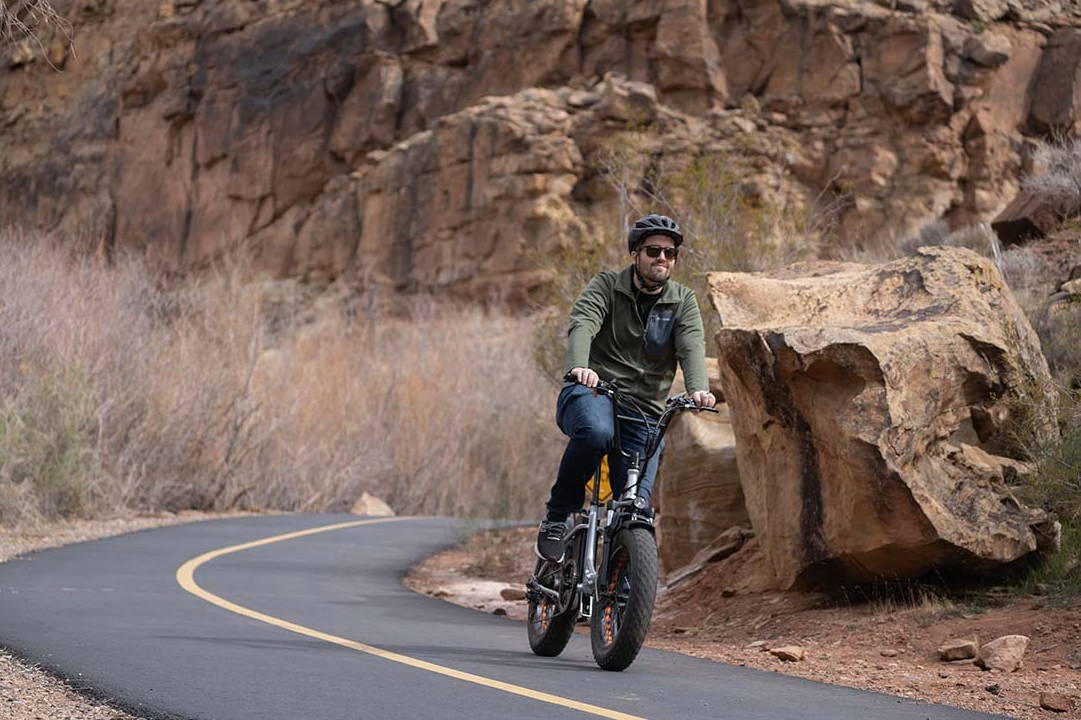 Nakto Folding OX Review: Range Test & Battery Performance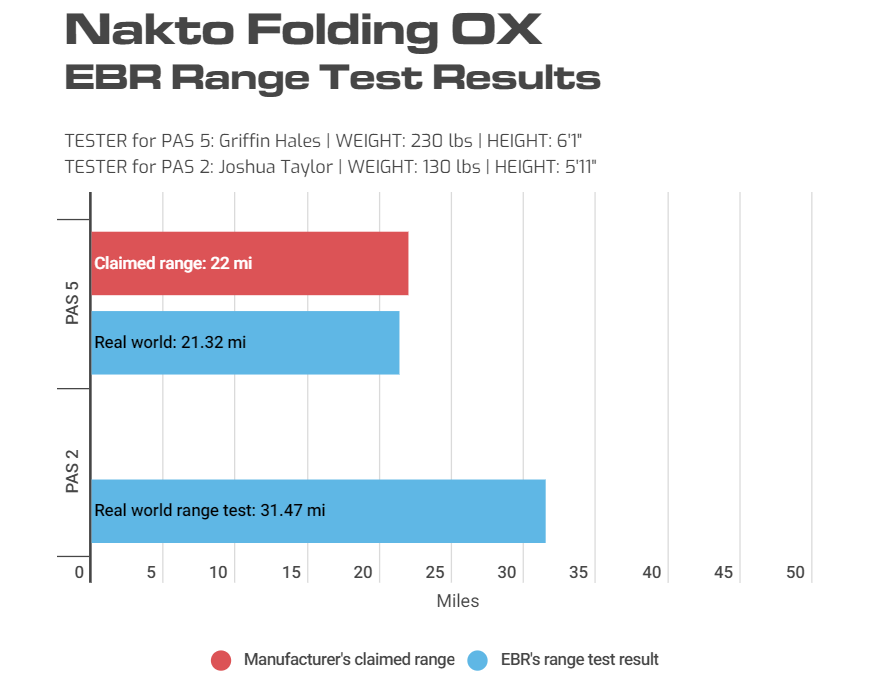 The 500W motor and 480Wh battery pairing is maybe the most notable combo of parts that tips you off that the Nakto Folding OX is an e-bike on a budget. Fans of max assist should expect less than an hour of time in the saddle with such a pairing.
We list about a 22-mile range on our website. That claim checks out from many testing. We saw between 21-31 miles from our two different tests. It's also notable that we held decent speeds during both tests, and the ability to get from A to B in a hurry is nice. Considering most rides one looks to take on a cruiser are likely to be under 20 miles anyway I'd say it's an alright result.
To summarize thoughts on the battery I'll say this: if you're a weekend bike warrior who likes to just cruise around I think it'll serve you well.
Nakto Folding OX Review: Hill Test
In my time speaking with people about what appeals to them about e-bikes I'd wager I hear more about how e-bikes can help on hills quoted more than any other aspect they bring to the table. That makes a lot of sense – for many people bikes transition from fun to work once a few degrees of incline get in your way.
So how does the Nakto Folding OX fair on hills? It does well – but to a point.
From the two hill tests that I conducted on the Folding OX to better see how a 500W, 52Nm motor could scale a hillside I thought it did great until it cut out.
The throttle-only test looked like it would make it to the top of our 1/3 mile, 12% grade test hill as it was holding decent speed into the second of the two steep pitches. However, motor power suddenly cut out on me forcing me to put a foot down.
Even on the PAS test, which I technically completed up to our segment point, the motor shut off shortly after finishing that test too.
Now, I can't for sure say what occurred, so keep in mind that the following is an educated guess, but either the motor or the controller is able to shut down motor assistance in the event the motor starts running too hot. Considering it was giving full juice to a 230 lbs rider attempting to summit a steeper than most hill, it makes sense to me that the motor may have been running hot.
Now this result was a first for me on testing e-bikes, but I'm taking a glass-half-full viewpoint on it. Having a motor stop on me is something I'll take any day over discovering what can happen if the motor overheats. Considering I didn't encounter any motor shutoffs over the course of the several dozens of miles I put on the bike in normal hilly conditions also indicates to me that It's not quick on the trigger to shut down per se either. Hell hole has seen many bikes fail to reach the top, this one just happened to call it for itself before the reviewer did which is fine by me.
When kept to normal riding conditions I think it'll do fine.
Nakto Folding OX Review: Brakes and the Brake Test
Over the past two years we've started to see more and more Zoom hydraulic disc brakes come on bikes. NAKTO is a brand that's been able to supply at a time when many others have struggled with parts availability, so we've seen them come on more and more e-bikes. They've typically faired well in terms of performance.
Nakto Folding OX Review: Ride Comfort, Handling and Cockpit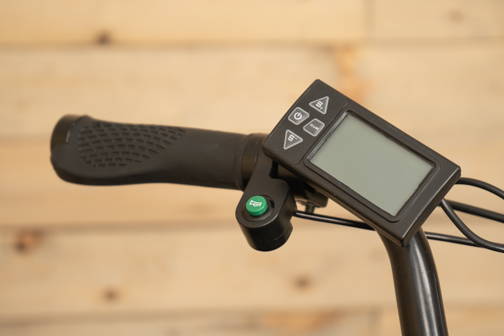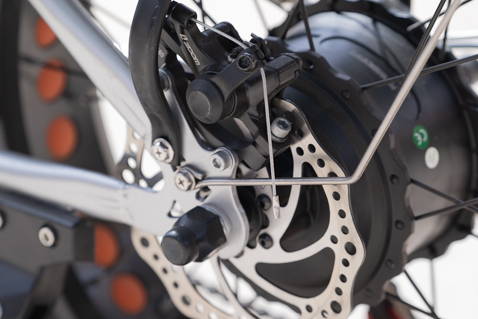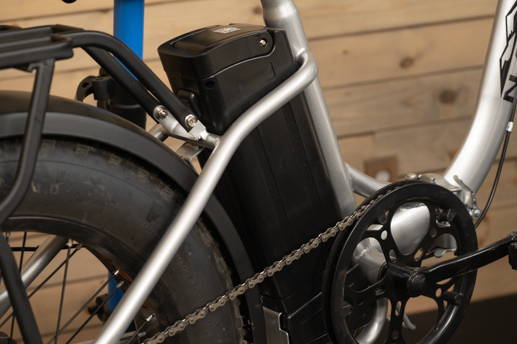 Before diving into the meat of the handling I think a quick PSA on bike assembly is worth talking about.
We review several DTC e-bike brands and considering the savings for the consumer we love how it makes e-bikes affordable and opens it up to more people finding an e-bike within their budget.
However, unless you've tuned your own bikes we do recommend taking bikes, such as the Nakto Folding OX we reviewed, into a local mechanic for setup. Ours arrived needing some TLC with the shifting and brakes before we were ready to hit the road. We have seasoned bike mechanics here on staff, but average consumers will want to make sure things are set up properly by a more experienced professional.
Once you've got things dialed in the ride experience is overall pretty decent. The Shimano Tourney works fairly well with shifting, and I think the gear range on this bike works pretty well.I'm largely a fan of the 52T front chainring as it helps lower gearing levels feel like they have meaning (which isn't often the case when using any amount of PAS on some other e-bikes).
The 60mm spring fork does okay at soaking up the impact of bumps in the road, and the spring dampened saddle will keep you at a relatively good comfort for how long you're likely to be riding.
Given that the Folding OX is an upright cruiser, I expected handling to have the wide-turn radius that cruisers can be a bit notorious for having. Happily, I don't think that was entirely the case here. It was more responsive than most of its peers in terms of navigating tighter turns, and the wider tire makes leaning into them a good overall handling experience. The handlebars and grips weren't standouts in either a good or bad sense – several fairly standard harder rubber grips, a simple LCD motor controller, and the blaring horn that you see on many a budget e-bike.
The 20" X 4" fat tires roll decently and are capable of hitting some light dirt and sand areas with a little more sure of footing than a standard cruiser tire. The highlight for me is more in their handling on the road than the allure of taking them offroading.
Nakto Folding OX Review: Summary / Where to Buy
So here at the end of the review of the Nakto Folding OX I'll answer the question likely on your mind: do I think this is the thousand(ish) dollar e-bike you should buy? The answer is YES.
I grew fond of the way the Folding OX pulled so many different bike styles into one e-bike, and having ridden cruisers, fat tires, and folders extensively I do appreciate the taste it gives you into each of their respective worlds. I'm also a fan of sheer comfort you get from an upright cruiser with highrise handlebars – it nails the bombing around town feel I like for more leisurely rides – but the motor can definitely let you go fast if you're looking for that too.
You can buy the Nakto Folding OX online and have it shipped to your front door.