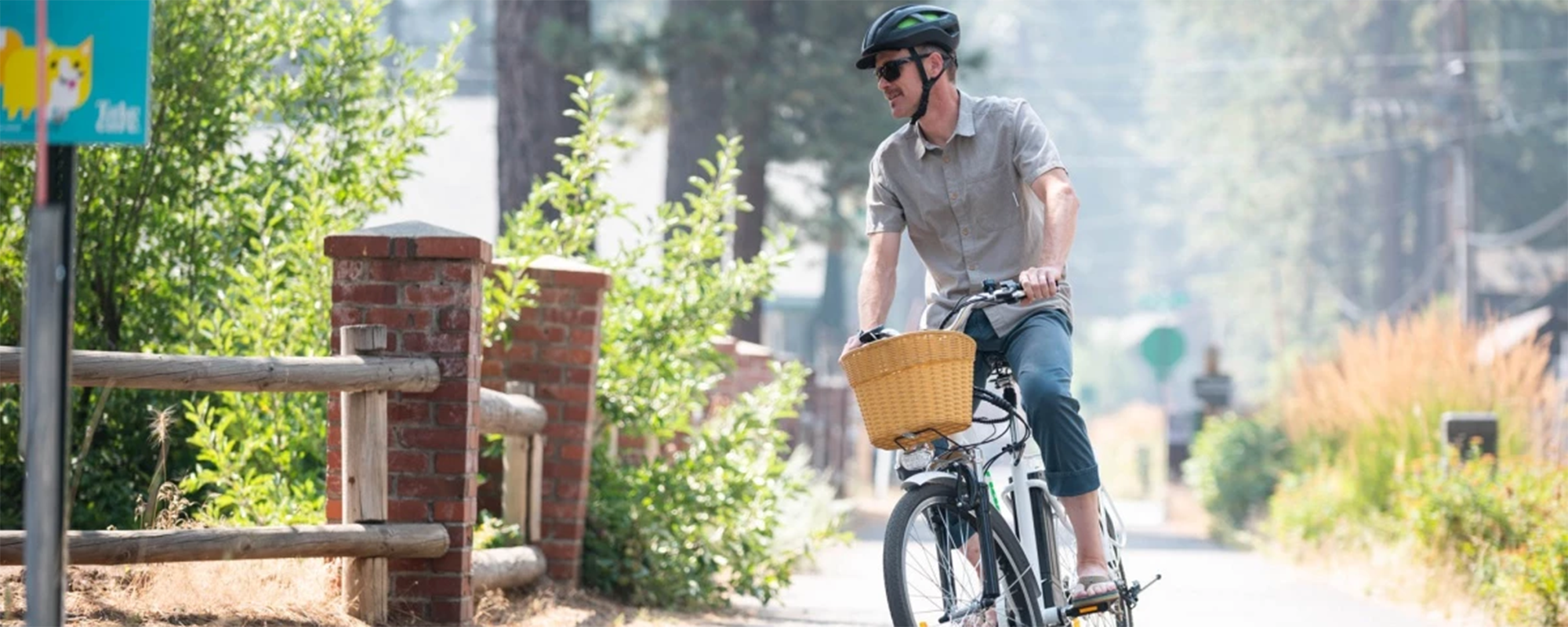 Electric Bikes are a great way to get around these days. They can be fast and exciting to ride. You can take them on public transportation too.
Electric bikes are much less expensive than driving a car for your commute and errands.
There are many great e-bikes out there for very reasonable prices these days. $500 is about as low as you can go and still get a full featured NAKTO e-bike.
The NAKTO Camel is a reasonably priced electric bike that we feel is a decent option for commuting or running errands.
250W or 350W(two versions) motor can go 25 mph using the throttle or pedal assist. The 36V 10A battery also gives this bike a surprisingly good distance range. This cruiser-style bike has a low step-through frame and comfortable upright seated pedaling position, and it generally has steady and predictable handling.
It also comes loaded with useful features like fenders, a headlight, an electric horn, a bell, a sturdy rear rack, and a covered basket. If you are in the market for one of the best budget electric bikes with all the bells and whistles, the NAKTO Camel is a great option to consider.
Ride: Smooth and versatile
The NAKTO Camel has a good, predictable, and smooth ride quality, earning an 8 out of 10. This cruiser-style bike has a low step-through frame and a comfortable, casual upright seated position. It also comes equipped with most of the features you'll ever need, enhancing its versatility and user-friendliness.
The overall handling of the Nakto to be relatively good. It felt predictable and steady, making a variety of turn sizes and shapes at a range of speeds. Our only gripe with this bike's handling was that it could feel a little twitchy when making very sharp turns at lower speeds. We attribute this twitchy feel to the somewhat compact geometry of the frame and steep head tube angle. Otherwise, this bike felt nice and smooth in the turns and plenty stable at higher speeds. We found the brakes and shifting to perform well.
Front and rear fenders will help keep you dry and make this bike suitable for riding in wet climates or splashing through puddles. An electric horn and a standard bell mean that you should always have some way of notifying other cyclists or people on foot of your presence.
The headlight runs off of the battery, and it does cast a nice wide beam for riding at night. The covered basket was also a nice touch and a perfect place to carry items on your way to work or while running errands. A sturdy rear cargo rack rounds out the extensive list of features and adds to this bike's carrying capacity.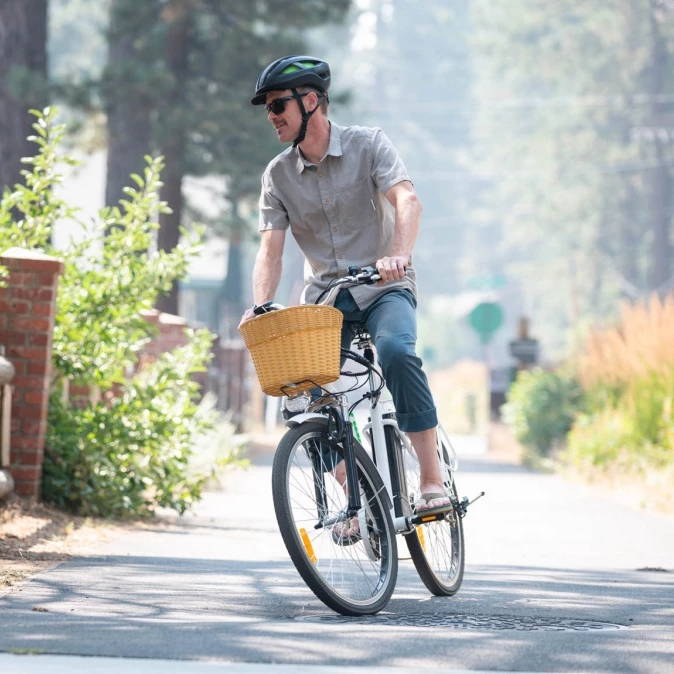 Range: Boasts a 25-30 mile range
We came away from our distance range testing. The NAKTO Camel comes with a 36V 10A battery, reaching a 25-30 mile range when using pedal assist. We think that a little pedaling effort from the rider could also help to increase this bike's range significantly.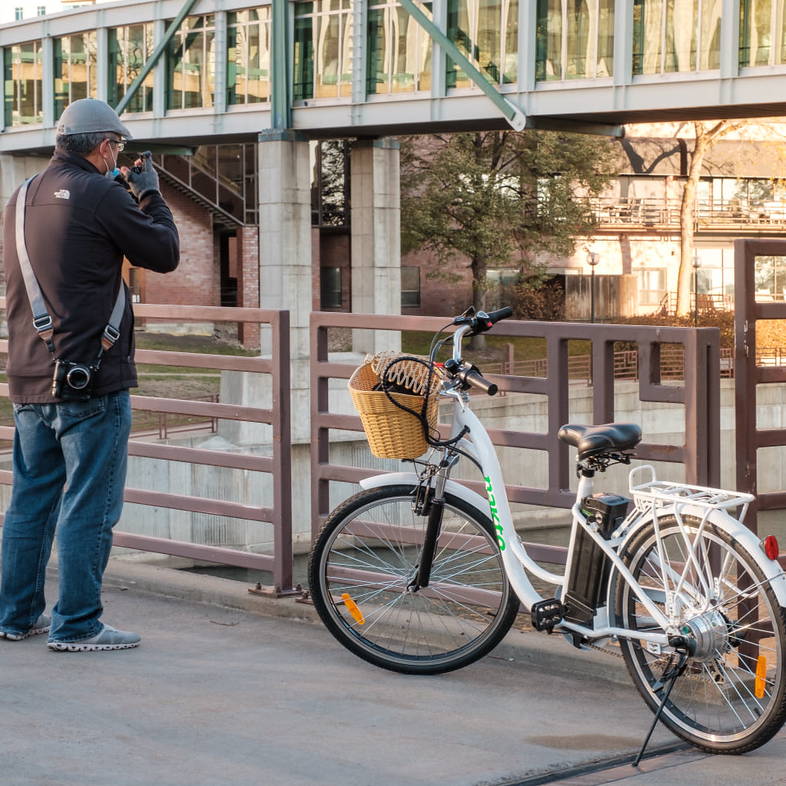 Power: 450W of peak motor, reaching 25 MPH
The 250W rear hub motor has average feeling acceleration when using the throttle. It has no problem getting up to its top speed of 25 mph on flat ground, We also liked that it didn't have an abrupt power cutoff feel when we hit the bike's top speed.
The NAKTO Camel has one pedal assist level. You can ride this bike with the pedal assist on or off. Once the assistance was on, it ramped up to full output and never felt jumpy and lingered for about a full second after the pedals stopped turning.
The assistance level felt reasonably strong, and if we had to guess, we'd say it provided around 80-90% support. We found it to be relatively easy to get up to its top speed of 25 mph while pedaling.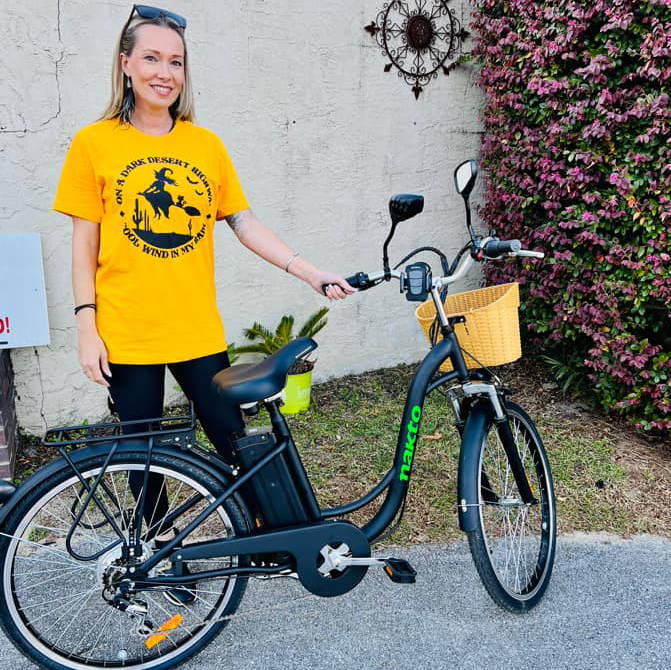 User Interface: Convenient controls, removable seat-mounted battery, and key-operated power.
It is still perfectly functional and gets the job done. The seat-mounted battery is also easily removable for charging or security.
The power of the NAKTO is turned on by putting the key into the battery and turning it to the on position. Once turned on, the display mounted by the right grip on the handlebar lights up with three colored LEDs on a small screen to display your battery charge as full, half, or empty.
All three lights illuminate with a full charge, and they turn off progressively as the charge depletes. A twist throttle is integrated into the right grip, which controls the bike in full electric/throttle mode. Below the battery charge indicator is a small red button that turns the pedal-assist on or off. Push the button to turn it on and push it again to turn it off.
Since this bike only has one pedal assist setting, that's all you need. There is a switch on the left side of the handlebar to power the headlight and a green button that controls the electric horn. This bike also comes with a bell, so you get to choose which way to alert fellow riders.
The battery slides into a slot behind the bike's seat tube and locks into place securely. The battery has a handle at the top, and the seat folds up and out of the way, making it very easy to remove for charging or security. The charging port is hidden under the handle of the battery, and charging time is claimed at 4-6 hours.
Assembly: Easy Assembly with step by step guidance
The assembly of the NAKTO wasn't particularly difficult and was easily completed at home with the instructions and tools provided, but the additional steps add a little bit of time. In all, it took a full hour to get the bike from the box to ride ready.
The bike is alwyas packaged well with loads of padding to keep everything protected. Once you removed the bike from the box, you removed all the padding and zip ties and located the included instructions and tool kit.
Despite being printed on both sides of a single sheet of paper, the instructions were thorough, detailed, and easy to follow. The bike comes about 80% assembled, with standard steps like attaching the front wheel, handlebar, seat post, and pedals remaining.
The additional steps of installing the front fender, headlight, and basket added about 20 minutes to the process. Again, none of these steps are that difficult; it just takes a little extra time. The assembly can be mostly finished using the included tools, although you will also need additional tools like an adjustable wrench for some of the steps.

Should You Buy the Nakto Camel 250 Cargo?
If you're looking for a reasonably priced electric bike and comfort, distance range, and carrying capacity are high on your list of performance attributes, we feel the NAKTO is an excellent option to consider.