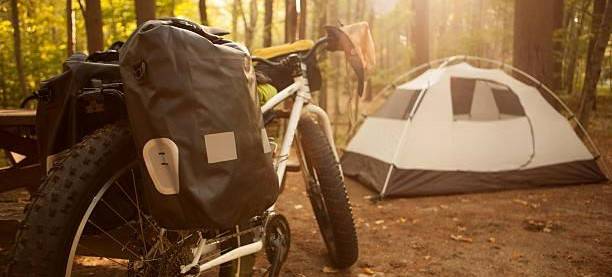 A Full Guide To Electric Bike Camping
Camping has always been a go-to way to unplug from the monotonous city life while getting some exercise in and reconnecting with nature. Popular ways that campers can explore the impressive landscape in the wilderness is by cycling (using traditional pedaling bikes) or hiking. However, we can all agree that both methods can be quite exhausting which is why electronic bikes have become the next best option for campers.
Without further ado, let's delve into this full guide on everything you need to know about electronic bike camping.
Get $50 off your first order
Sign up for special offers and updates
1. What Is Electric Bike Camping?
To put it simply, electric bike/eBike camping is all about commuting to your preferred camping ground using an eBike. Campers would normally hike or cycle using regular bikes through narrow trails to access some campgrounds deep inside the forest. However, hiking with a heavy backpack or using a traditional pedaling bike to pass hilly and rough terrains is very hectic. Traveling during your camping trip using any of these means slows you down, requires more physical effort, and makes you settle for closer and less exciting campgrounds.
On the other hand, going on a camping trip using an electric bike has a lot more advantages than the traditional bikes even though you're also required to pedal. Electric bikes come with an electric motor that upgrades it from being just a regular bike to one that allows you to travel with ease with little or no physical stamina.
It's so much cooler and fun camping with an eBike because you'll be able to explore more than one campground and hidden gems in certain areas difficult to navigate with a regular bike.
2. The Benefits Of Electric Bike Camping
Camping with an electric bike comes with so many benefits that would make your camping experience a lot more enjoyable. There are some really convincing reasons why electric bike camping has become so popular in recent times and below are a few to consider.
1.Conveniently Carry More Equipment
Electric bikes are powerful enough to carry along your camping gear, groceries, and other essentials. Where you need to put your back into pedaling while traveling with some items on a standard bike, eBikes allow you to carry more equipment with little or no strain on you physically. You can enjoy a smooth ride through trails with a rear rack mounted conveniently carrying your items.
2.Cover Farther Distances
Another benefit of using an eBike when camping is that you can cover longer distances and not break a sweat. The electric motor makes it possible to control the amount of effort you need to pedal. It's more convenient and allows you to explore new camping locations and even get access through difficult terrains.
Using a regular bike limits the distances you can cover because it requires more effort from you and of course, you're going to get tired so to save time and energy, you just settle for a closer and basic campground.
On the flip side, eBikes like the Nakto Super Cruisers are capable of assisting you through your journey and even give you the confidence boost to check out hills and explore rugged terrains.
3.Move Faster On Trails
It's so exhilarating being able to speed through different terrains when locating a campground whilst enjoying the fresh air and nature's sounds. One of the fun parts of camping isn't just when you arrive at the campground but also the moments that lead to it. This is another upside to getting an eBike is that your pedaling skills aren't vital for moving smoothly and quicker on trails.
This means that you're bound to get to your preferred location quicker than when your lower body strength was a prerequisite to how soon you arrived at your campground. With the extra boost from the electric motor, there wouldn't be any need for too many rest stops because your legs are tired.
4.It's An Eco - Friendly Means Of Transportation
Traveling green has to be one of the most important benefits of electric bikes. The entire world is at the point of taking intentional steps to reduce pollution by making more eco-friendly decisions in transportation and other aspects.
With such an amazing eco-friendly transportation tool, you can cruise through the forests without the animals and trees wishing evil on you. It's quiet and doesn't pollute the atmosphere so we totally love eBikes for this reason.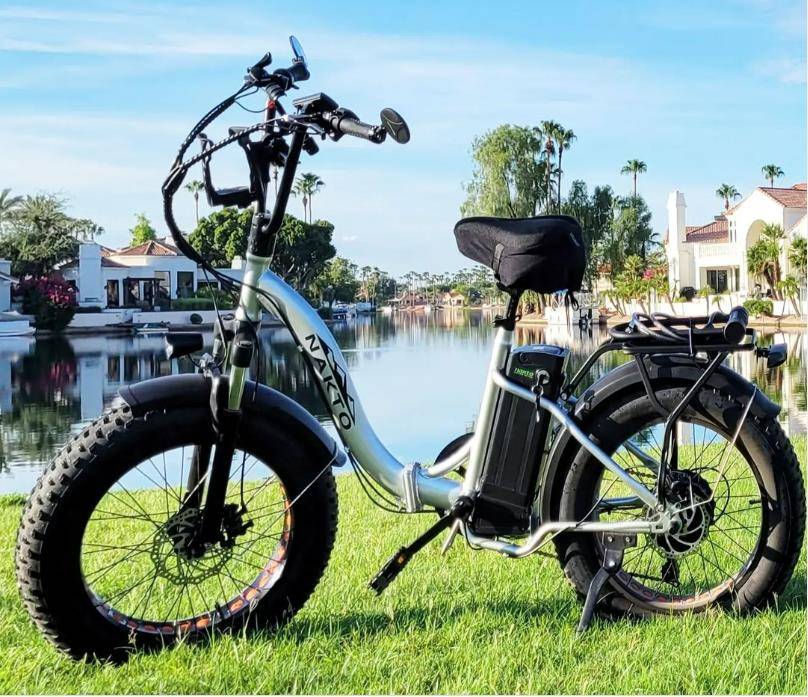 3. Guide For Camping With An Electric Bike
Now we've covered some of the basics about electric bikes, it's time to give you some pointers when camping with an electric bike. Camping with an electric bike is an exciting alternative to using standard bikes but there are a few things you need to get in place before getting on the road.
1.Get A Plan Ready
Camping with an electric bike requires you to have a laid down plan especially if it's your first time. It's a lot different from getting to a campground via a car so before you embark on this journey there are a few things you need to be aware of. The first thing you need to figure out is how you want to get to the camping location which could be a little town or village.
Secondly, check if the terrain has bike-friendly trails for you to pass through. One might assume that with how trendy electric bikes are, there'll be more than enough routes convenient for them but that's not the case. You need to research and be sure that there's a cycling route.
Also, check out the wideness of the roads and the amount of speed you're allowed to use that ensures your safety and that of those around you.
2.Be Smart In Your Packing
The next step is to pack your basic camping gear which should include a sleeping bag, tent (of course), repair tools, lights, toiletries, charger, food, and other essentials depending on how long your camping would be. Your things should fit comfortably in your bags to avoid anything sticking out and getting misplaced.
3.Research About The Right Site
If you already have a campsite you want to visit, that's awesome! Some campgrounds have rules that need to be followed to gain access. You might need to make a reservation or not. A few campsites don't mind how many people are on the ground while others do so to avoid wasting your time, do your homework.
4.Plan For Recharge
It's very necessary to always have an available option for recharging your bike if you don't have a spare battery. Some campgrounds have electricity and a ranger station to recharge your eBike while others don't or they're just too far away. Ensure that your chosen location allows you to securely recharge your bike before embarking on your journey.
5.How Far And Fast Can Your eBike Go
Electric bikes come in different weights, motors, and battery capacities which in turn determines how far and fast they can go. From the onset, you should only purchase an eBike after ensuring that its features are good enough for the distance and areas you want to explore.
The amount of effort you choose to put in when you ride would have a direct impact on your battery.
It's also important that you try to understand the battery capacity and the amount of work you need to do to make it last. Though using an eBike would assist a lot in making pedaling easier, your pedaling skills are still useful to help save your battery.
Lastly, you should research the speed limit of electric bikes in the country you intend to ride in. There are traffic laws set in place to ensure the safety of pedestrians and bikers.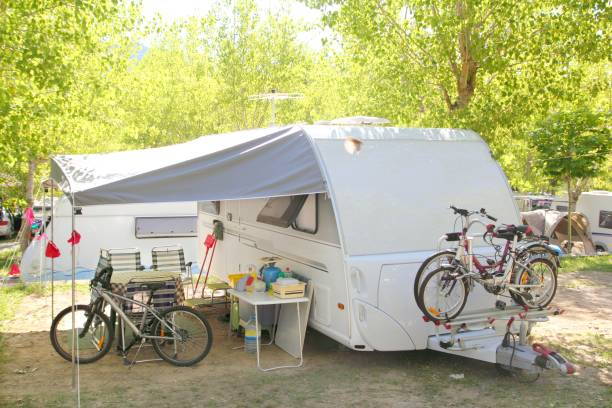 4. How To Charge An eBike While Camping
Being able to charge your eBike battery is very important so here's what you can do to ensure you're always assured of having a full battery to enjoy your electric bike to its fullest capacity.
Carry A Spare eBike Battery
The first and quite obvious way to always have a full battery for your eBike is by carrying a spare battery. Just like we mentioned earlier, some campsites have ranger stations where you can recharge your battery. However, in a situation where you can't recharge your battery, the spare would come in very handy. A spare battery also helps when you're riding a distance that is longer than your battery capacity or passing a difficult terrain that would require more effort from your eBike.
The next question would be how to carry your spare battery. There are mountable racks where you can keep your spare battery which usually weighs about 7-9 pounds. These rear mounted racks come in different sizes that can fit one or two spare batteries comfortably. They're also handy for when you want to spare your back by transferring your camp gear onto the rear rack.
Note that getting a bigger bag that can fit your spare battery as well as your gear would be a good idea.
Charge An eBike Battery
So if you've determined that your eBike battery can cover the distance you're covering, it's also important to charge after your rider, especially if the battery capacity is less than 40%.
To charge your battery, take out the charging equipment which usually includes the battery pack, two cables, charger, and battery bay. All eBikes also come with an instruction manual that can direct you on the specific way to charge your battery based on the bike's model.
When you've found a secure place to charge your battery, you should;
-Bring out the battery pack, not forgetting to switch it off.
-Next is to connect the battery cable to the charger adapter and then connect it to a mains outlet.
-Turn on the plug and your battery is charging.
Most eBikes have an LED light that shows a red light for low battery and green to indicate it's full. Also, note that the eBikes battery only needs to charge for about 3-6 hours before returning it to the bike.
Can I really go electric bike camping?
Yes, you can go electric bike camping because it creates a new and exciting experience for you. Taking eBikes like the Nakto Santa Monica camping allows you to have access to cooler campsites you couldn't visit considering how hectic it would be using a regular bike or hiking.
Electric bike camping is also convenient and allows you to carry more items to make your camping experience comfortable.
Is it worth taking a spare charged battery while eBike camping?
A spare charged battery might be of little to no use to you if you're only riding a short distance that your bike's battery capacity can carry. However, visiting a new and challenging terrain that's quite a distance would drain your battery so having a spare would be perfect.
Traveling for a short distance, you might decide to leave more work for the eBike; in that case, you should carry a spare battery.
Do campgrounds allow electric bikes?
Electric bikes have become so trendy that more and more campgrounds are creating trails for them. However, not all campgrounds allow electric bikes for different reasons. It could be because there aren't trails for them or hiking is the best option to access them. This is why carrying out your research on the location you intend to visit is important.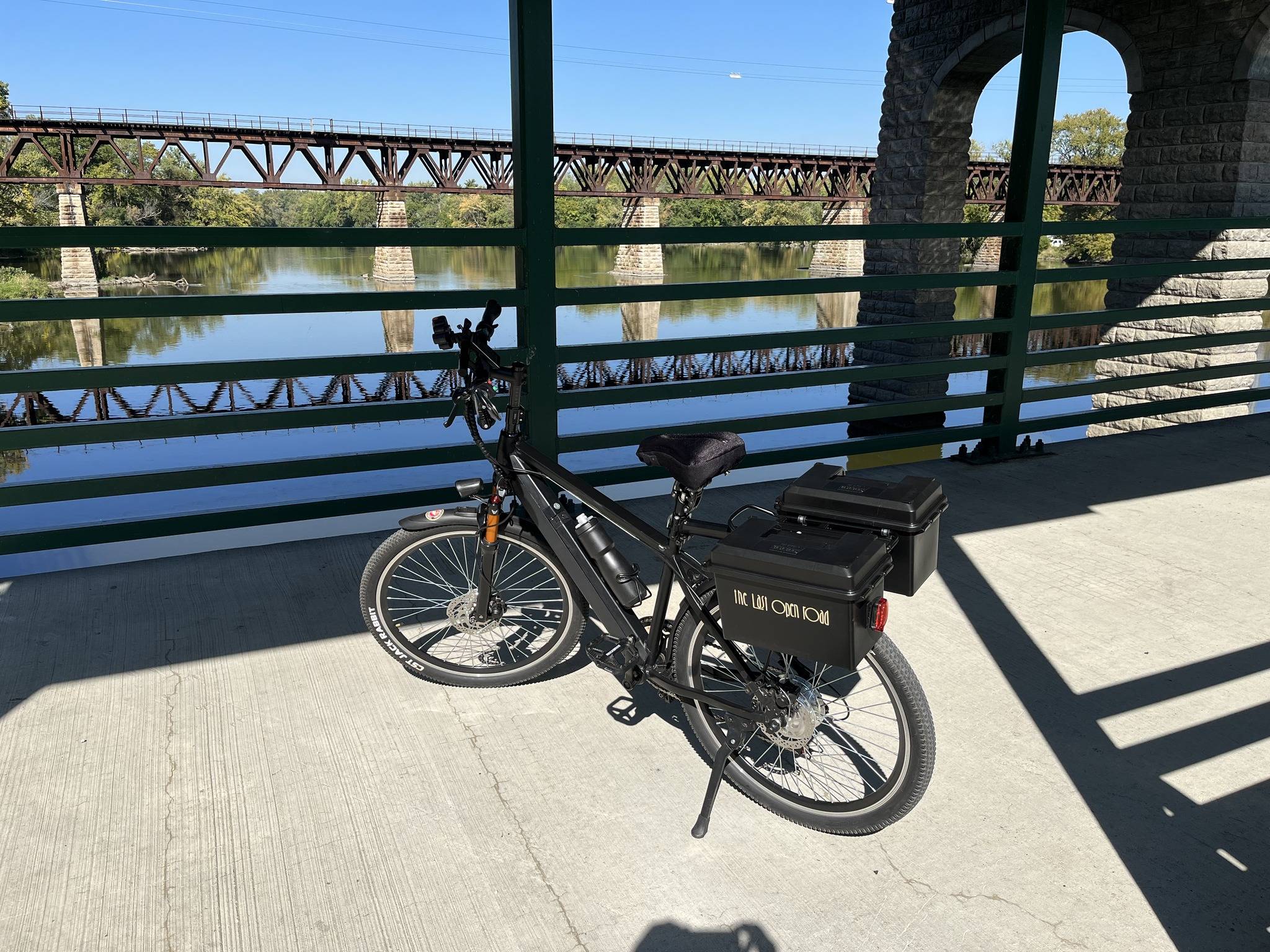 If you're all in for trying out electric bike camping, that's amazing! There are so many eBike brands out there but our recommendation for getting started is the NAKTO eBike. Ride comfortably through any terrain, have battery life that lasts up to 22 miles, up to 5 pedal assist levels, weather-proof, and enjoy other amazing features.

In summary, camping is great but camping with an electric bike is a whole new experience you need to try out. However, you need to do your homework on the best eBike for you, the campsites that allow them, and the best ways to maximize its battery capacity.
With this guide, you're sure to have a good head start on your next eBike camping trip.