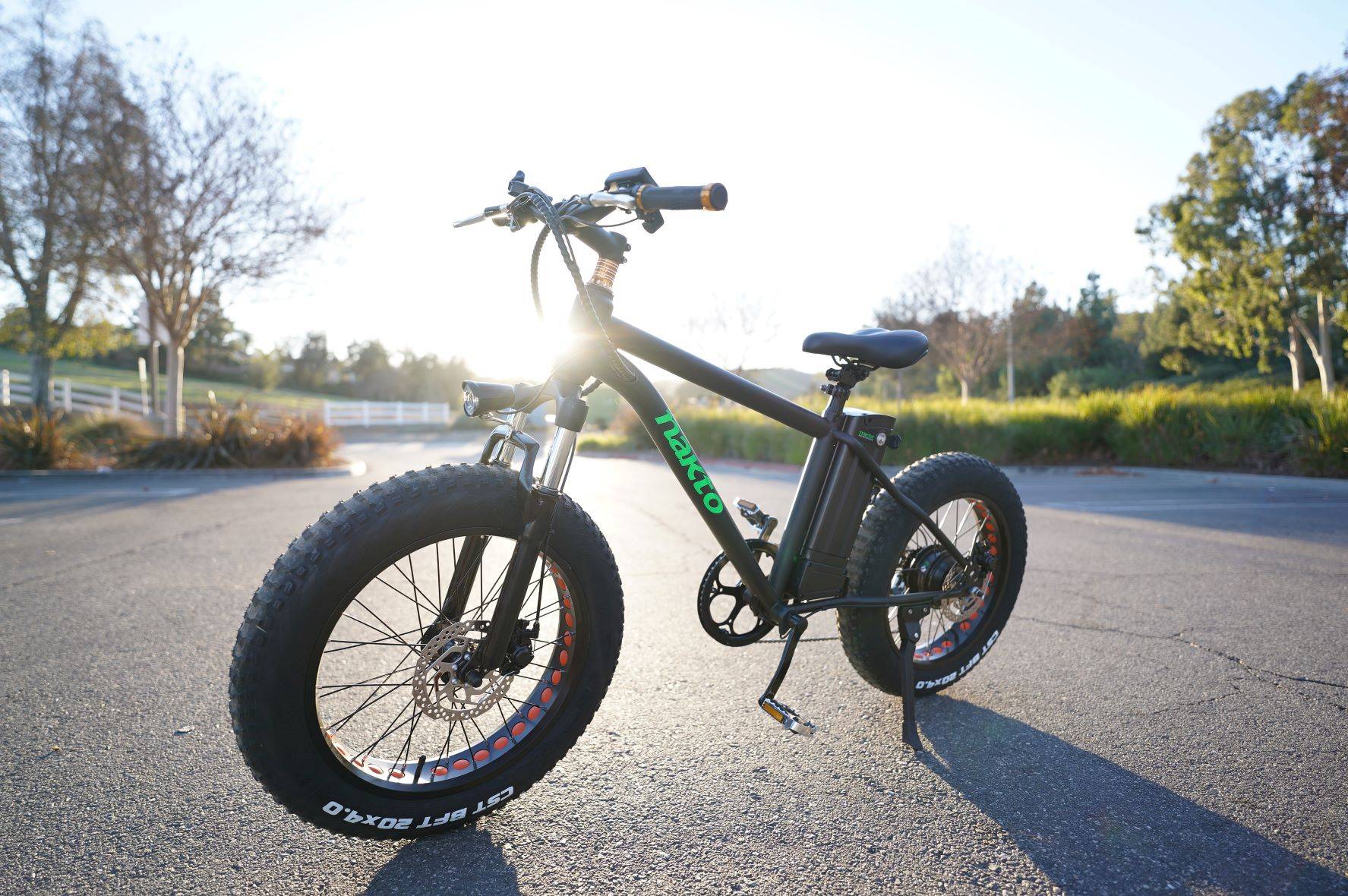 To join our mailing list and never miss an update!
You can say that you perhaps grew up riding a bike, but riding an electric mountain bike for the first time is an entirely different story. There can be obstacles, and there can be rocks and tree-roots in your trail. Another main concern is that you don't know how your body moves one way while your tires take you in the opposite direction.
Mountain biking comes up as both a dangerous as well as a healthy activity. The studies, published across a wide range of sports medicine and medical journals, have shown that the injury rate in mountain biking can be up to a whopping 40 injuries per 1000 hours of mountain bike riding. As well as this, around 81% of bike riders have stated that mountain bike riding helps them cope with negative thoughts and feelings.
Remember that, as a new-to-mountain-biker, things can be difficult for you. Mountain biking can be an exciting activity, but riding across streams, rocks, and different terrains makes it nerve-wracking and terrifying. Of course, it gets easier and more fun with time. But there are a few tips or skills you have to know before starting as a beginner.
Skill for Riding for Electric Mountain Bike
Before hitting the trails through, you do not only need a mountain bike, but some other essential skills are also required to have a wonderful mountain biking experience. So, let's start here what things can make mountain biking wonderful:
Pre-ride Checks
Before heading out on a bike ride, there are some pre-ride safety checks you should consider to make sure your mountain Ebike is safe and ready to use. The electric battery is the most important component of an electric bike. Modern e-bikes usually come with lithium batteries, with some other options of the heavier lead battery. You have to ensure that the battery is good enough to have a safe biking experience.
E-bike batteries are usually tested by measuring their resistance, voltage, and current. However, a multimeter is used to take precise measurements. Before you start testing your battery, ensure that it is fully charged and you have removed it from the bike frame.
If your mountain bike wheels are held in place with quick-release levers, ensure that levers are closed with the proper tension. If you do not have an idea about wheel quick-release levers, consult a qualified bike mechanic.
Now you should come for brakes. Rock the bike forward and backward while grasping the right-hand brake lever firmly. The brakes must hold firmly without squealing and slipping. Do the same with the left-hand brake lever. You should not ride the bike if either brake does not hold firmly. It is advisable to have the brakes checked by a qualified eMTB mechanic.
For checking wheels, hold handles with one hand and grab the front wheel's top while using the other hand. Try to rock the wheel side-to-side and ensure that there is no movement in this direction.
Spin the front wheel while lifting the bike's front end; it should sound smooth. If it makes a grinding or crunchy sound or the wheel wobbles from side to side when spinning, the wheel needs to be serviced. Do the same process to check the rear wheel.
Now, you should come for the stem and headset. The stem is a component help hold the handlebar in place. Keep the front wheel between your legs. Grip the handlebar tightly and turn it without rotating the wheel. If you feel handlebar turns, do not ride the bike and ensure its service before the ride.
The bike's headset consists of a cluster of ball bearings inside the bikes' front end, enabling the steering to be functional. Grab the left-hand brake and rock the bike forward and backward while holding the outer area of the bearing. If you suspect any play in the bearing, ask a mechanic for service.
Last but not least. You need to check the chain of your bike before the ride. Consider cleaning and re-lubricating the chain if you see a little rust surface. However, it needs to be replaced when you find it completely covered with rust.
How to Set Up Your eMTB?
Whether you want to participate in a competition or are weekend adventurers, you have to set up your electric mountain bike accurately to have a hassle-free mountain biking experience. We find thousands of different models, kit choices, and suspension combinations, making it difficult to build a good base of the setting. Here we come with some mountain bike setup skills for beginners so that your mountain biking experience is off to a wonderful start. So, let's start here;
Tire pressure is something important while setting up your mountain bike. What pressure do I run in my bike tires? This is the primary question. Experts suggest that tire pressure should be neither above 24psi nor less than 29 psi. Now, what about tires width? Many modern mountain bikes come with considerably wide tires, up to 3.0 inches in width.
Riders who need a comfortable and relaxed ride must go with the latest 3.0-inch models. However, eMTB tires from 2.6 to 2.8 inches are compromised with massive grip, handling precision, and comfort. Although, before adding wider tires, ensure that your bikes' rims are wide enough to support the bigger tires.
What about saddle height? Truth be told, for having an excellent mountain biking experience, a proper bike saddle height is incredibly crucial. It plays a vital role as it determines the number of things. First, how comfortably you want your entire ride. A wrong setting saddle comes up with an array of issues for both rider and bike. Next, find an adjusted and supportive saddle height, helping bend the knee slightly with cranks at full extension.
How much sag is the right amount? This is another concern while setting up your mountain Ebike. Suspension setup with the correct amount of sag ensures the bike is balanced front to rear, helping suspension perform at its best.
The leverage ratio and suspension design are different for each bike, and they perform well with different amounts of sag. For example, the recommended amount of sag for the front fork is 10%; however, it should be from 20% to 30% for the rear shock. The needed amount of sag may also be different based on your bike, riding preference, and weight.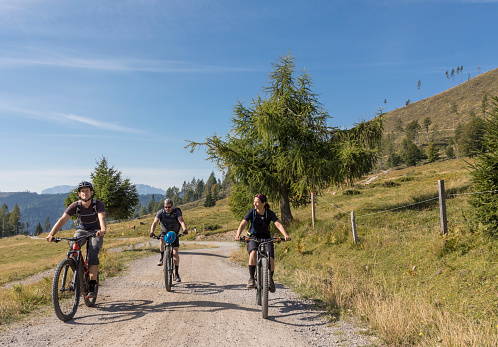 What Do you Need to Wear?

Your comfort level, environments, protection concerns, and to some extent, your personal biking style determine what you need to wear for a safe mountain biking experience. Here we have discussed all the essentials a beginner electric mountain bike rider should consider to have a wonderful biking time.

Helmet and Goggles
Among the basic essentials of mountain biking, the helmet is incredibly important. Compared to road cyclists, the chances of bumping, slipping, and crashing into a rock or tree are high in mountain bike riders. So, head protection is crucial. The helmets are specifically designed with an integrated peak for mountain bike riders, helping keep rain and sunshine out of the riders' eyes. As well as this, they also help deflect the low-hanging branches.
Mountain bike riders' helmets are sides of the head and sit lower the back, helping provide better coverage. It is advisable asking your professional trainers to choose the best helmet for you.
Goggles and glasses play a pivotal role in providing additional protection to your eyes. Mountain bike riders are usually found wearing glasses, helping protect eyes from debris and sun glare. However, if the weather is particularly muddy or grim, goggles can be the alternative option, providing sealed weather protection with a wide range of sight. Therefore, it is important to wear goggles or glasses as a beginner to have an excellent riding experience.
Wear Gloves to Protect your Hands
Wearing gloves ensures your hands or fingers are warm, compressed, and stable, helping you ride a mountain bike easily and smoothly. It has been declared that the vast majority favours full-finger gloves as they provide more protection than mitts. In addition, gloves are considered the best kits to protect the hands from undergrowth and crashes. Some gloves also come with padding on the palms to provide additional cushioning.
It will help if you look for gloves that have placed grippers carefully, helping you get full control over the shifters and brakes. Investing in a couple of gloves is ideal, avoiding sweaty hands in summer and freezing hands in winter.
Knee Pads and Socks for Leg Protection
Most riders suggest wearing knee pads, especially when they ride on the trail where there is a high risk of taking a spill. But, sometimes, wearing a knee pad is also about a piece of mind. Today, we find a variety of knee pads that work accordingly.
It will help if you ask your professional trainer to choose the best product for you. Mountain bike riders who participate in the competition and high training sessions also wear additional armor, including elbow pads and back protectors.
Mountain bike riders, especially beginners, may face leg problems, including overstretches in shins & calves and cuts from the undergrowth. Socks play a vital role in protecting your legs. Experts suggest wearing long socks, resulting in maximum protection.
Waterproof socks are the best recommendations for mountain bike riders who ride in wet conditions, keeping feet dry and relatively warm. On the other hand, breathable and lightweight socks are ideal for keeping your feet cool during summer.
The shoe and pedal interface are crucial when it comes to contact with the bike. Proper footwear ensures secure riding over rough or rocky trails. As well as this, footwear also enhances pedal efficiency, helping technical climbing.
What is Other Equipment to Consider
Mountain bike riding, like other modes of cycling, can be a year-round activity if you have the right riding kits. The need for a kit or other essential garments depends upon the weather conditions when you opt to ride. A jacket is another crucial part of your mountain bike riding kit. You can find a variety of jackets to ease your mountain bike ride, and these include a hybrid jacket, a lightweight shell, and a fully waterproof jacket.
A lightweight shell is designed with water-resistant material to offer some rain and wind protection. A hybrid jacket ensures warmth, water repellency, and breathability. A hybrid jacket is usually designed with padded fabric or softshell, providing additional stretch and warmth. A waterproof jacket is what the name shows. It helps keep the rain out for hours on end.
Jersey and trousers are the primary need for every single mountain bike rider. You can choose the jersey and trousers according to your riding style and comfortability. For example, riders who need to ride in a wet area need to wear waterproof trousers, helping keep them warm and dry.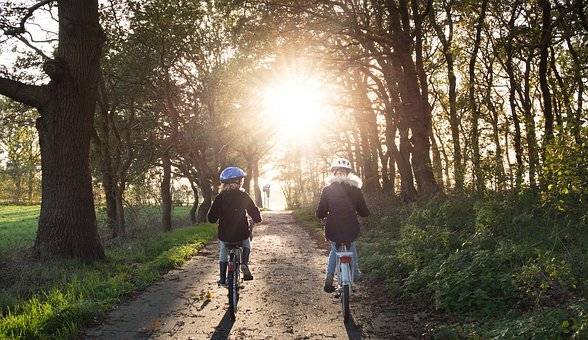 Beginners need to learn the proper climbing technique, helping them climb safely and smoothly. So here we also come with the essential climbing tips, encouraging you to begin an exciting mountain bike riding career:
Maintain your body weight: If you are carrying extra weight, you climb every step with a significant handicap.
Practice: The more hills you will climb, the better practice you will have to achieve your goals.
Climbing technique: For efficient climbing, correct climbing technique, including optimal use of your gears, is important.
Descending technique: Riders nervous about descending will significantly waste their energy and may lose time on downhills. Improve your descending technique also, helping manage your stamina and time.
Bike, kit, and clothing: Starting with the minimal weight of the bike and kit helps make your ride easy and efficient. However, it will help if you also look for the required equipment to experience injury-free climbing.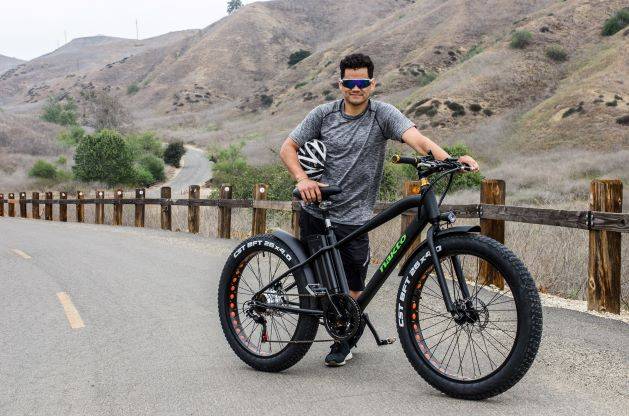 If you have done with all the essentials, it's time to start mountain bike riding. Always take it easy before you start riding. Never compromise with the essentials. If you still have any doubts in your mind, ask your professional trainers to kill all the obstacles in your mind. As well as this, before starting your first ride, you need to do practice, again and again, to be entirely prepared for all the challenges.
H2: Conclusion
We have discussed the potential pre-checks, allowing you to have a safe mountain bike riding experience. The discussed pre-cheeks enable you to know what you do and don't do to make your bike ready for mountain riding. Proper setting up your bike will make you confident of achieving your riding goals. The given skills to set up your bike are enough if used accordingly.
Any sport can be dangerous without wearing protective gear, and mountain bike riding is not an exception. This article shows the potential ideas of what beginners should look to wear before pedaling their mountain bike. As well as this, we also provide you with all the basic essential tips of climbing, making mountain bike riding an excellent skill of you.
To sum up our discussion, we can say that it will help you and encourage you to give mountain bike riding a try. The best and faster way to improve your riding is to ride an electric mountain bike again and again. Remember that repetition and more miles will surely progress your fitness as well as riding skills. Another excellent suggestion for you is to ride along with pros or even better riders than you. Mountain bike riding can be an amazing opportunity for you to have fun and explore beautiful places around the world.